Gluten-Free Vegan Grapefruit Scones
These gluten-free vegan grapefruit scones are easy to make and are bursting with grapefruit flavor. Since they're ready in under 30 minutes, they make a great breakfast treat!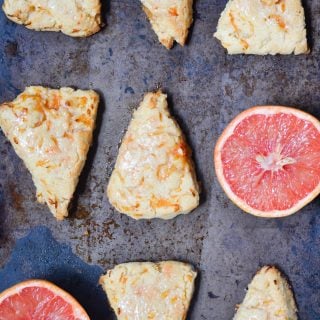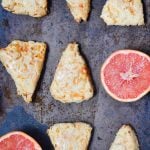 I love, love, LOVE grapefruit! I remember as a kid diligently cutting my grapefruit into segments, sprinkling with a little bit of sugar, and happily eating away. It always seemed like a lot of work to cut it up all nicely just for about 10 segments, but it was always worth it.
So when I cut grapefruit out of my diet a few years ago at the start of my elimination diet, you can imagine how devastated I was. Actually, for the first year or so of my elimination diet, I cut out ALL fruit (because even natural sugar is still sugar) to try to keep my candida yeast overgrowth in my gut at bay.
Now, I'm not really sure where I stand with my candida diet. I try to keep low sugar as much as possible and limit my fruit intake to 1-2 servings a day. But, I realized how miserable I was during my candida diet, just restricting myself so much.
I know there are people who can do this, and more power to them. I just couldn't do it and after two years of a candida diet, I stopped. I already have so many food intolerances on top of my celiac disease, so restricting myself even more was just making me unhappy.
I try to listen to my gut as much as possible and that's what seems to be working for me right now. *As you all know, I am by no means a medical professional or giving medical advice, I'm an accountant.. so I can do your taxes, but that's about it 🙂
Long story short, grapefruit came back into my life, and I couldn't be more thrilled! After buying a massive 10lb bag of grapefruit at CostCo the other week, I needed a way to use up the last of them before they went bad.
Scones seemed like the perfect way to let the grapefruit flavor shine! The grapefruit was used in many ways in this recipe — I rubbed the grapefruit zest in with the granulated sugar (which if you have never combined your zest with your granulated sugar before adding it in with the rest of the recipe.. DO IT!
Not only does it smell amazing, it really helps the fragrance of the zest permeate throughout the dough), I used the juice and grapefruit segments in the dough, and then more juice and zest in the grapefruit glaze. We're using ALL of the fruit here for the ultimate grapefruit scone.
I absolutely adore how these grapefruit scones turned out. The flavor is nice and bright without being too overwhelming. The grapefruit glaze gives the scone a light covering so you get a nice sugary crunch in every bite.
The scones have a very tender crumb and would taste amazing with a little lemon curd or honey. They're also gluten-free and easily made dairy-free and vegan, as I did, so everyone can enjoy!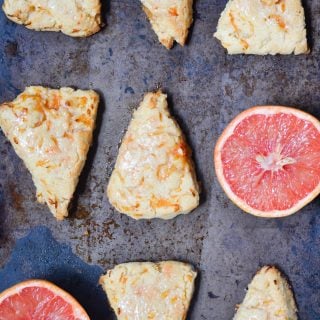 Gluten-Free Vegan Grapefruit Scones
These gluten-free vegan grapefruit scones are easy to make and are bursting with grapefruit flavor. Since they're ready in under 30 minutes, they make a great breakfast treat!
Print
Pin
Rate
Ingredients
For the Scones:
⅓

cup

granulated sugar**

1

tbsp

grapefruit zest*

2

cups

gluten-free all-purpose flour

1

tablespoon

baking powder

½

teaspoon

salt

⅓

cup

butter

(cold and solid, cut into small cubes (I used Earth Balance vegan butter))

1

teaspoon

vanilla

⅛-1/4

cup

fresh grapefruit juice*

1

cup

fresh grapefruit segments*
For The Glaze:
2

tablespoons

grapefruit juice*

4

tbsp

powdered sugar**

1-2

tsp

grapefruit zest
Instructions
Preheat oven to 400F.

In a small bowl, rub grapefruit zest into granulated sugar until the fragrances are released and the zest and sugar are thoroughly combined.

In a food processor, add the sugar mixture, gluten-free flour, baking powder, and salt. Pulse to combine.

Then, add in the very cold butter chunks and pulse until the butter is the size of small peas. If you don't have a food processor you can also do this in a bowl with a pastry blender or two knives. You just want the butter to remain cold and not melt into the flour mixture.

Then, add in the vanilla and grapefruit juice. Start with ⅛ cup of grapefruit juice and keep adding more until the mixture is slightly wet and can be held together into a dough (I ended up using almost the full 1/2 cup of juice but it will depend on your brand of flour).

Carefully stir in the fresh grapefruit segments.

Pat the dough into a circle (about 8 inch in diameter). Cut it into 8 wedges.

Bake at 400F for 15-17 minutes, until they are a light golden brown.

Make the glaze while the scones are in the oven. In a small bowl, combine grapefruit juice, zest and powdered sugar and whisk until there are no more clumps of powdered sugar. You can add more juice if you want a thinner glaze.

Remove the scones from the oven and allow to cool before glazing.

Drizzle or spoon the glaze over the scones and allow to set completely before serving.
Notes
*You'll need 2 medium sized grapefruits for this recipe. Zest both grapefruits. You'll use half of the zest for the dough and half for the glaze. You'll then cut one of the grapefruits and use the segments in the dough. The other grapefruit, you will squeeze the juice out of for the dough and the glaze.
**Be sure to use vegan sugars if you would like to make this recipe vegan.
Nutrition
Calories:
234
kcal
|
Carbohydrates:
38
g
|
Protein:
3
g
|
Fat:
8
g
|
Saturated Fat:
4
g
|
Cholesterol:
20
mg
|
Sodium:
214
mg
|
Potassium:
202
mg
|
Fiber:
3
g
|
Sugar:
16
g
|
Vitamin A:
565
IU
|
Vitamin C:
11.3
mg
|
Calcium:
94
mg
|
Iron:
1.2
mg