Gluten-Free Vegan Apple Hand Pies
These gluten-free vegan apple hand pies are a delicious fall treat! They're extremely portable – which means no plates or forks needed here!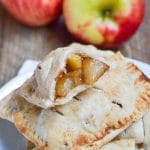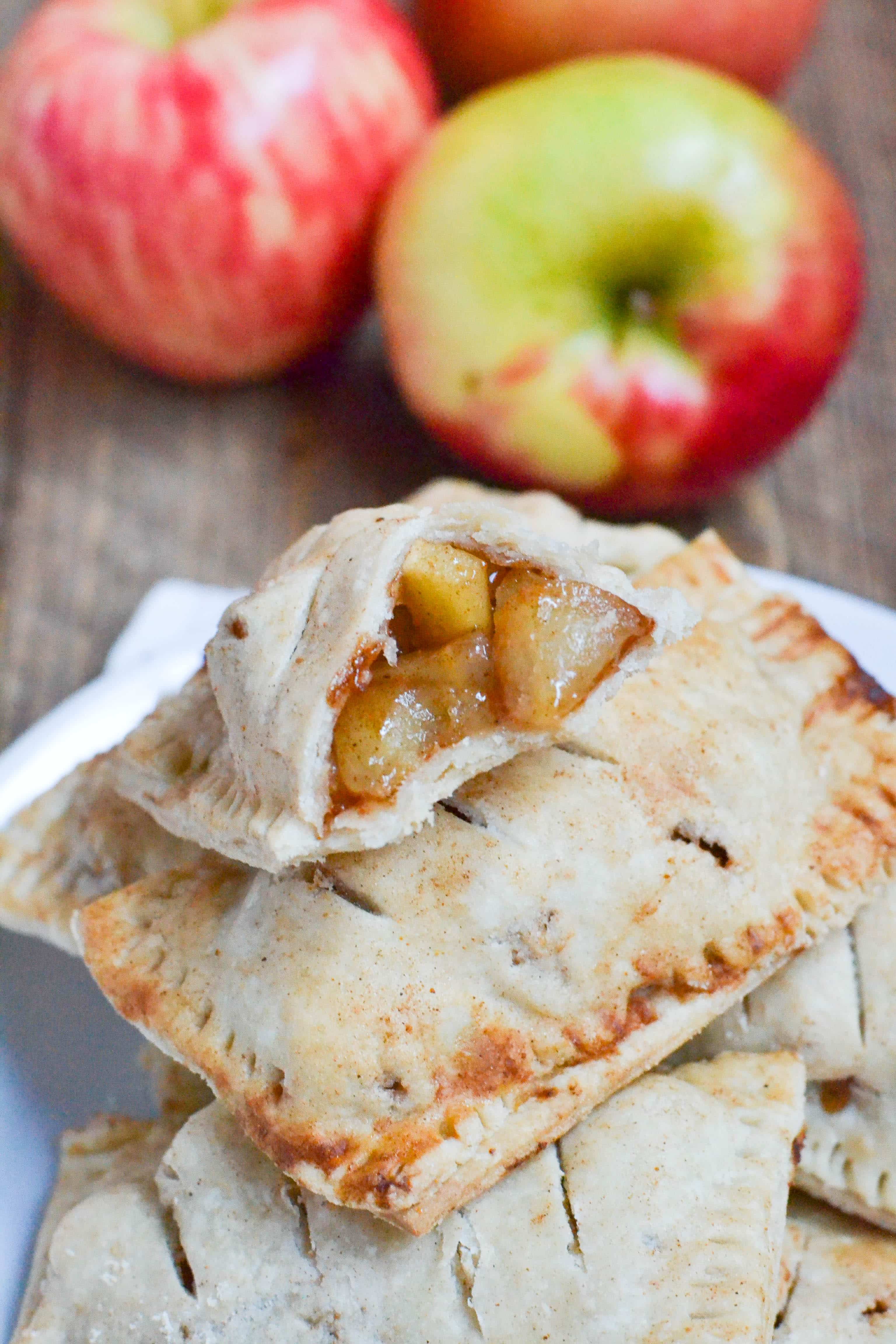 I've been craving apples like no other lately. Even though I couldn't make it to the apple orchard this year, I decided it was time to make some apple pie in this house! I picked up some local Wisconsin (okay local-ish, Wisconsin is close enough) honeycrisp apples at the market and was on my way to making some apple pie.
Instead of making one large pie, I decided to make some apple hand pies instead. Something about individual pies really appeals to me. You don't need a plate or fork, they're portable – because who doesn't dream about walking around while eating an apple pie? – and they're in a smaller portion – so it doesn't make me feel as bad when I eat three in one sitting!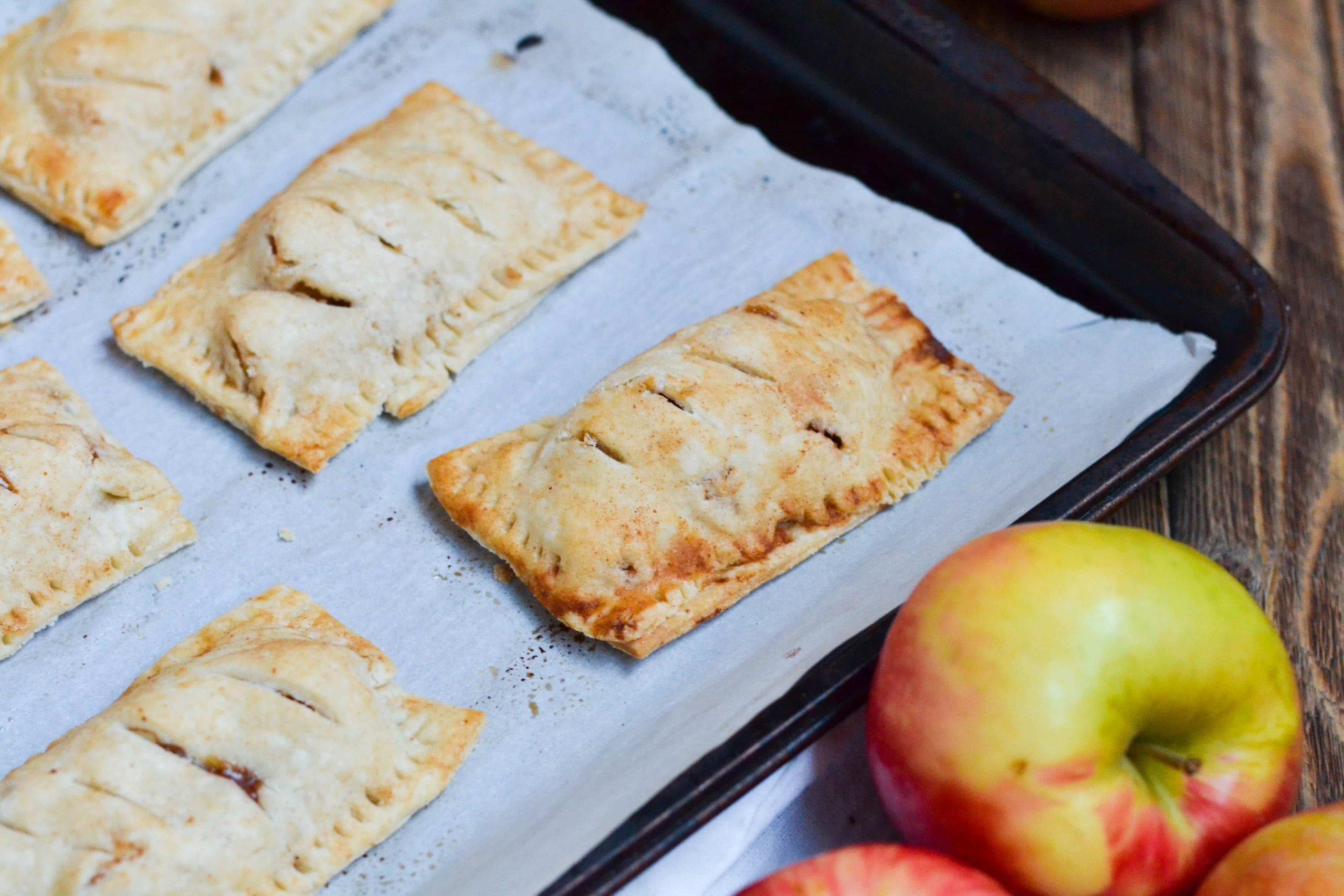 The best part about these pies is that they can be shared with just about anybody who loves apples since these are gluten-free AND vegan apple hand pies. I promise, it sounds a lot more difficult than it actually is.
Gluten-free vegan pie crust is rather easy to make. There aren't eggs normally in pie crust so no substitution was needed there. As for the dairy-free part of it, I used Earth Balance vegan buttery sticks which gives it a great butter flavor.
For the flour, I used Namaste gluten-free flour blend this time around. I tend to switch off between making my own flour blend, Namaste, and Bob's Red Mill 1-to-1 baking flour – it all depends on what I have on hand and how lazy I am that day.
I think the real secret here is rolling the dough thin enough and keeping the dough cold. To achieve that, I put the dough in the refrigerator after making the dough and then also placed the pies in the refrigerator again before they go in the oven.
Brushing the tops of the pies with the liquid from the apple mixture before baking always makes helps to create a delicious and beautiful golden crust, too!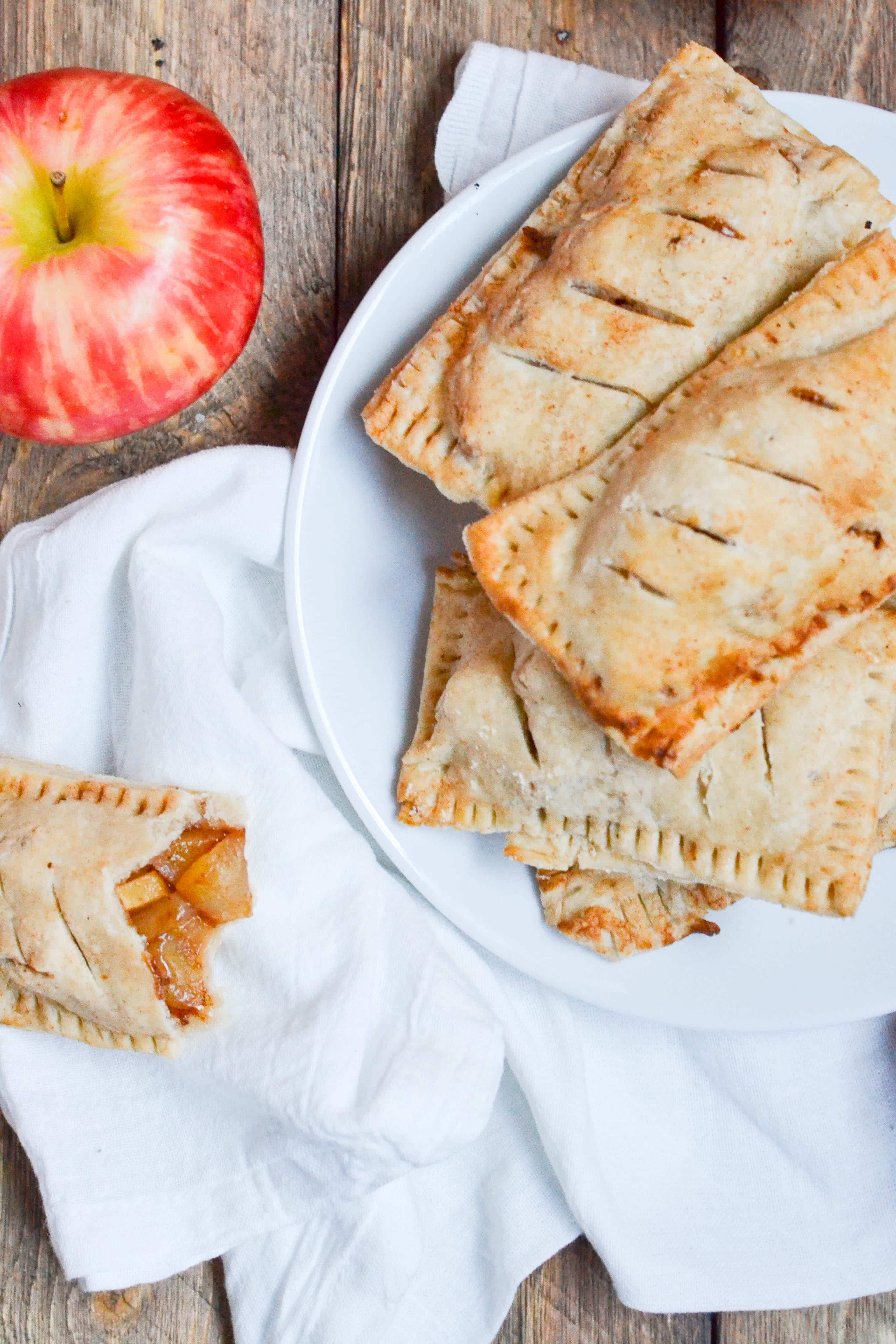 One bite of these gluten-free vegan apple hand pies and you will be smitten! They actually almost remind me of the McDonald's apple pies.
Now, I haven't had one in probably 8+ years, but I was immediately taken back to my college days of living way to close to McDonald's my sophomore year and eating way too many double cheeseburgers and apple pies.
Oh what it was like to not know about my celiac disease diagnosis… But, I digress. These apple hand pies are full of apple and cinnamon flavor! The crust is crisp, flakey and buttery – everything you want in a pie crust.
These would be great to make for a party because you don't have to get out the extra plates and forks. I also think kids would get a kick out of holding a pie in their hand.
In college in Wisconsin, I used to make these hand pies (although not gluten-free and vegan) and bring them to the terrace at the union where my friends and I would play card games, grab pitchers of beer, and munch on these delicious hand pies.
Funny how one recipe can bring back multiple memories, isn't it?
What event would you make these gluten-free vegan apple hand pies for? Tell me in the comments!
Other Gluten-Free Apple Recipes You'll Love for Fall!
Roasted Chicken Sausage, Butternut Squash and Apples
Gluten-Free Vegan Apple Hand Pies Recipes
Want a fall treat that is gluten-free, dairy-free, and vegan? Remember those tasty apple pies from McDonald's? Well you can have something even BETTER that contains no gluten, dairy OR eggs with this apple hand pie recipe. It's so easy to make and is so delicious. No need for forks and knives here – just pick up your own individual hand pie and eat! Who says you can't have pie on the go?
Gluten-Free Vegan Apple Hand Pies
These gluten-free vegan apple hand pies are a delicious fall treat! They're extremely portable – which means no plates or forks needed here!
Print
Pin
Rate
Ingredients
Pie Dough:
1 & 1/2

cups

gluten-free flour blend

(I used Namaste)

1

tbsp

sugar

1/4

tsp

salt

1/2

cup

(8 tbsp) vegan butter, cubed and cold

(I used Earth Balance)

4-5

tbsp

ice cold water
For the Filling:
2

medium crisp apples

(grannysmith or honeycrisp, peeled and diced into 1/2 inch pieces (about 2 cups))

1

tbsp

lemon juice

3

tbsp

sugar

1

tsp

cinnamon

1/2

tsp

nutmeg

1/2

tsp

ginger

1/4

tsp

cloves

1

tbsp

cornstarch

pinch

of salt
Instructions
In a food processor, combine gluten-free flour blend, sugar and salt. Then add in the cold, cubed vegan butter.

Pulse 6-8 times, until you have a mixture that resembles coarse meal and the butter is the size of peas.

Add one tablespoon of water at a time, pulsing in between, until you able able to pinch the dough between your fingers and it holds together.

Turn the dough mixture out onto a clean surface and knead together into a ball. Wrap in plastic wrap and refrigerate for at least one hour.

While the dough is resting in the refrigerator, make the filling. In a large bowl, combine diced apples, lemon juice, sugar, cinnamon, nutmeg, ginger, cloves, cornstarch and salt. Stir to combine. Let sit for 10-15 minutes.

Strain the apples from the juice before filling - reserving the juice in a small bowl for later.

Remove dough from the refrigerator and roll out into a large square, about 1/8 inch thick. Cut rectangles about 2.5 inch x 4.5 inch from the dough. Repeat with remaining scraps. Once all of the dough is cut, you'll fill them. Add about 1-2 tablespoons of filling to a dough rectangle. Place another rectangle on top. Crimp the edges of the rectangle with a fork, sealing in the filling. Poke holes in the top of each rectangle pouch with a fork or cut 3-4 slits with a knife to allow steam to escape during baking. Repeat with remaining rectangles and filling. Place on a baking sheet lined with parchment paper and refrigerate for 20-30 minutes.

Preheat oven to 400F. Remove pies from the refrigerator. Brush the tops with the reserved juice from the apple mixture. Bake at 400F for 20-25 minutes, until the dough is cooked through and lightly browned.

Serve warm. Best enjoyed on the day that they made or frozen for enjoying at a later day. You can keep in a covered container for up to 3 days.
Notes
Please note, the prep time includes inactive time for refrigerating the dough.
Nutrition
Calories:
245
kcal
|
Carbohydrates:
25
g
|
Protein:
1
g
|
Fat:
16
g
|
Saturated Fat:
3
g
|
Sodium:
227
mg
|
Potassium:
64
mg
|
Fiber:
2
g
|
Sugar:
14
g
|
Vitamin A:
35
IU
|
Vitamin C:
3.8
mg
|
Calcium:
15
mg
|
Iron:
0.5
mg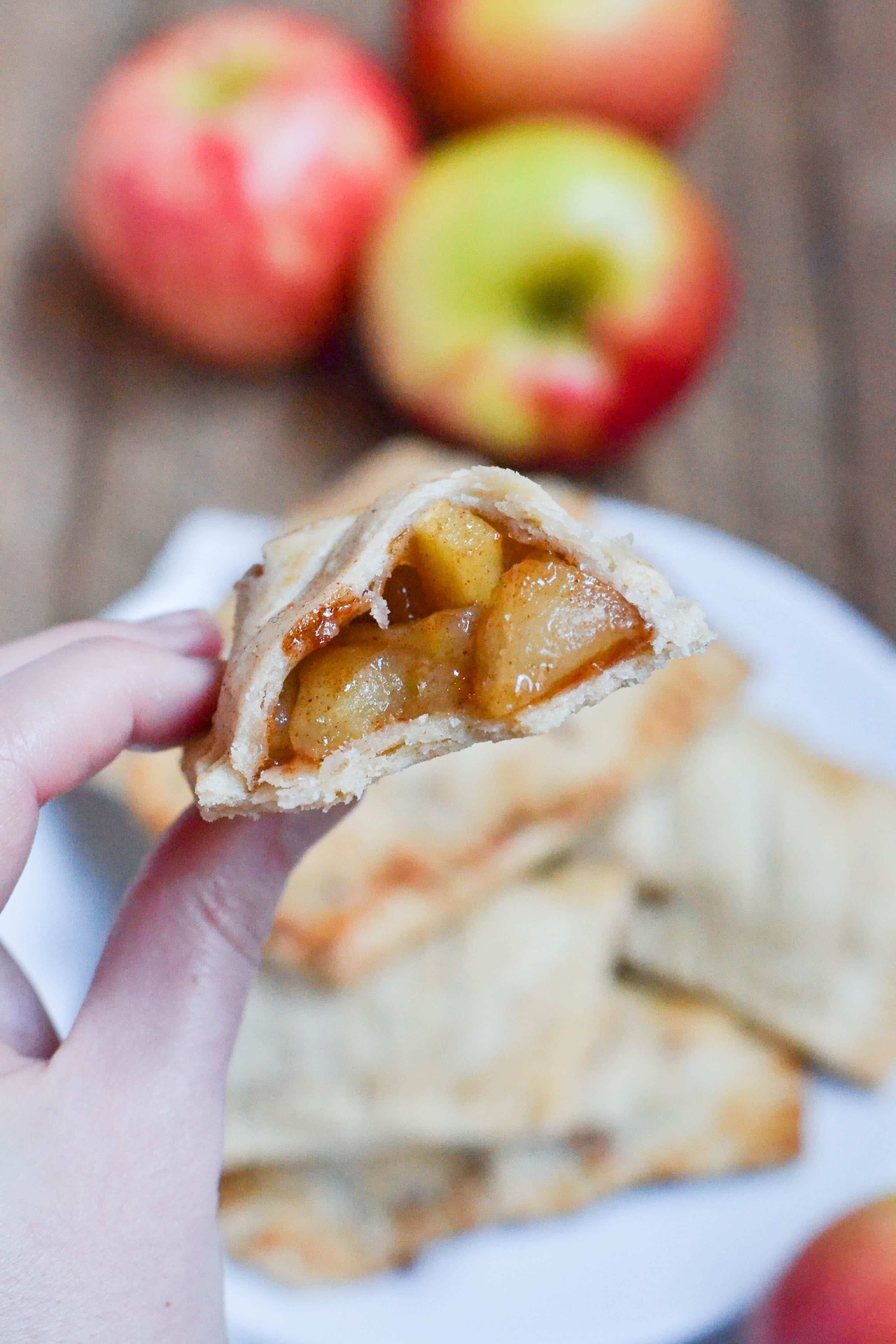 I'm Megan
A gluten-free food blogger from Chicago and lover of all things food, showing you gluten-free can be easy and delicious, too. Let's make gluten-free stress free together! Read more…