10+ Gluten-Free Super Bowl Appetizers
10+ Gluten-free Super Bowl Appetizers that are sure to make the big game delicious! Including tips on how to survive the party to help you have a good time while staying safe! From chicken wings to guacamole to bacon wrapped treats, we have it all! All gluten-free, all fantastic!
The Super Bowl is this week and I couldn't really tell you who is playing (the Patriots probably?) but I can tell you what I'll be eating.. Lots of delicious gluten-free goodies!
Let's be real, if my team (and they normally aren't… because Chicago Bears, enough said) isn't playing in the Super Bowl, it's all about the food and commercials. Some of my favorite gluten-free appetizers for the Super Bowl include chips and guacamole (obviously), yogurt based dips, hummus and vegetables, and baked chicken wings.
I've shared a lot of great appetizers over the years on my blog that are just perfect for Super Bowl parties or any type of get together really. One of my favorite things to do on weekends during the fall is watch college football with my boyfriend (go Badgers!) and appetizers are always aplenty while we chill on the couch and take in the game.
Before we get started with my favorite gluten-free appetizers for the Super Bowl, I thought I'd share some great tips to stay gluten-free at whatever party you'll be going to. Navigating social events while you're gluten-free, especially if you have celiac disease, is not always easy but definitely possible if you are prepared and vigilant. Here are some of my favorite tips:
Be first in line to the snack table or buffet line. I always do this at family parties and my family has grown accustomed to the fact that I'm going to go first. Why? Because cross contamination friends! Say my sister makes a delicious spinach artichoke dip that's gluten-free. What happens when someone dips a gluten-laden pretzel into that dip? You guessed it. Cross contamination. When you go first, stock up on what you want to eat throughout the game so that you don't run into any issues with cross contamination.
Bring your own crackers/chips/vegetables for dipping. In addition to going first in line so that you don't have to deal with cross contamination, bring your own tortilla chips for that delicious spinach artichoke dip your sister made. Nothing is worse than having a gluten-free dip with no vehicle to get it in your mouth, right? Though, I have been known to just spoon guacamole into my mouth. No shame here!
Eat before I head out to whatever event I'll be attending, but I also bring food with me, too! While I hoard snacks for myself either in my purse or in a tupperware, I bring along a gluten-free appetizer or dessert that everyone else can enjoy. Not only does this help me feel included in the party, but I love showing other people that gluten-free food is not "gross" and can be super delicious! This is a great opportunity for educating others on why you have to eat gluten-free!
With a few of these tips for surviving the Super Bowl and these amazing gluten-free appetizers below, not only will you be surviving, you'll be THRIVING!
Mango Pomegranate Pecan Guacamole – Guacamole is your new best friend. This mango pomegranate pecan version is a fun way to amp up an already amazing appetizer, but if you're not up for fruit in your guac try my lazy girl guacamole or bacon and roasted bell pepper guacamole. Love fruity guac? Then this apple guacamole might be for you, too!
Baked Honey Mustard Chicken Wings – No gluten here, baby! I love baking chicken wings so that they get super crispy and then adding the sauce. This honey mustard sauce is one of my favorites. For other variations, try my peanut butter chicken wings and teriyaki chicken wings.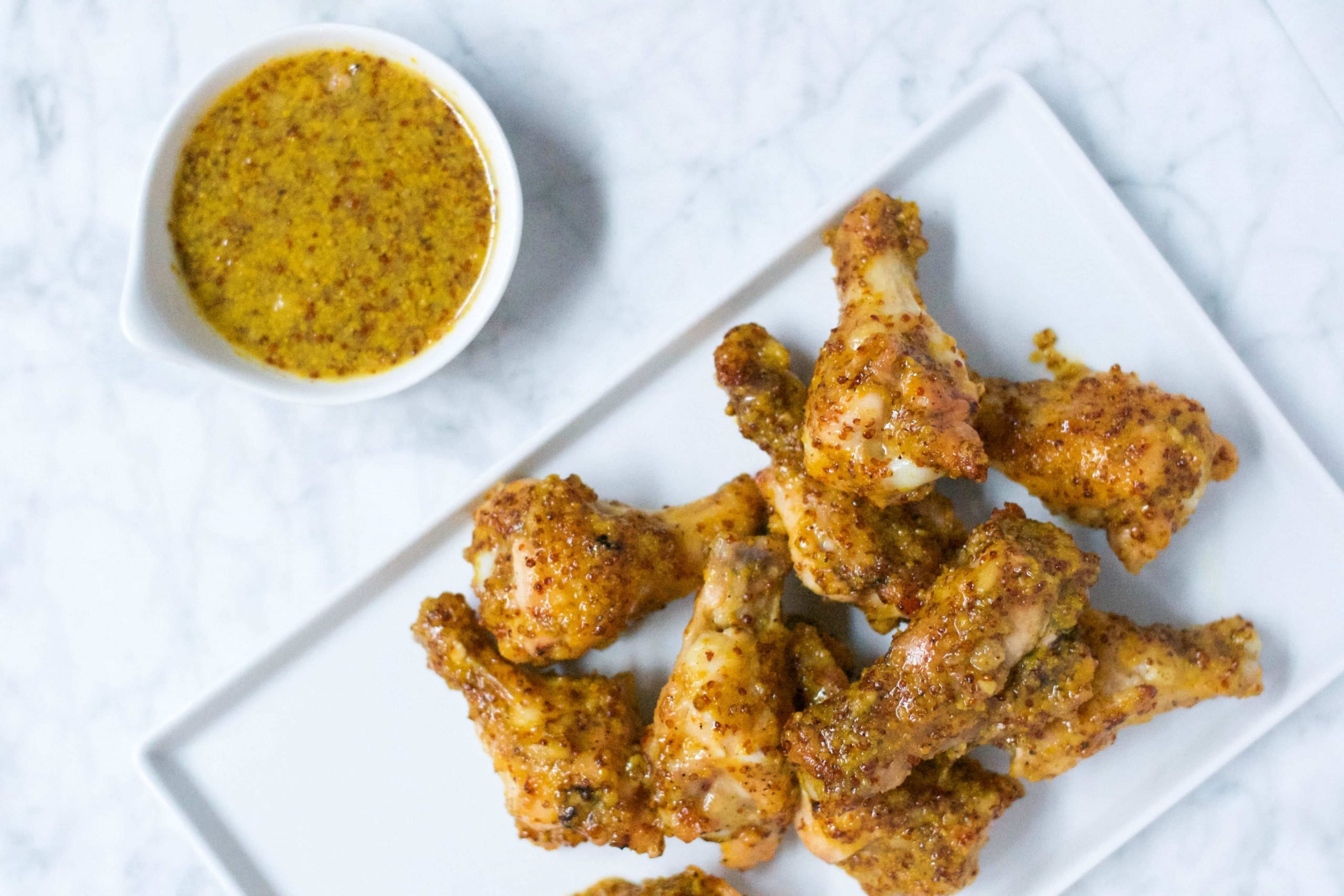 Baked Polenta Manchego Fries – Nothing is better than super crispy polenta fries. Polenta is super versatile and gives these fries a delicious flavor. Serve with marinara for the ultimate dipping extravaganza.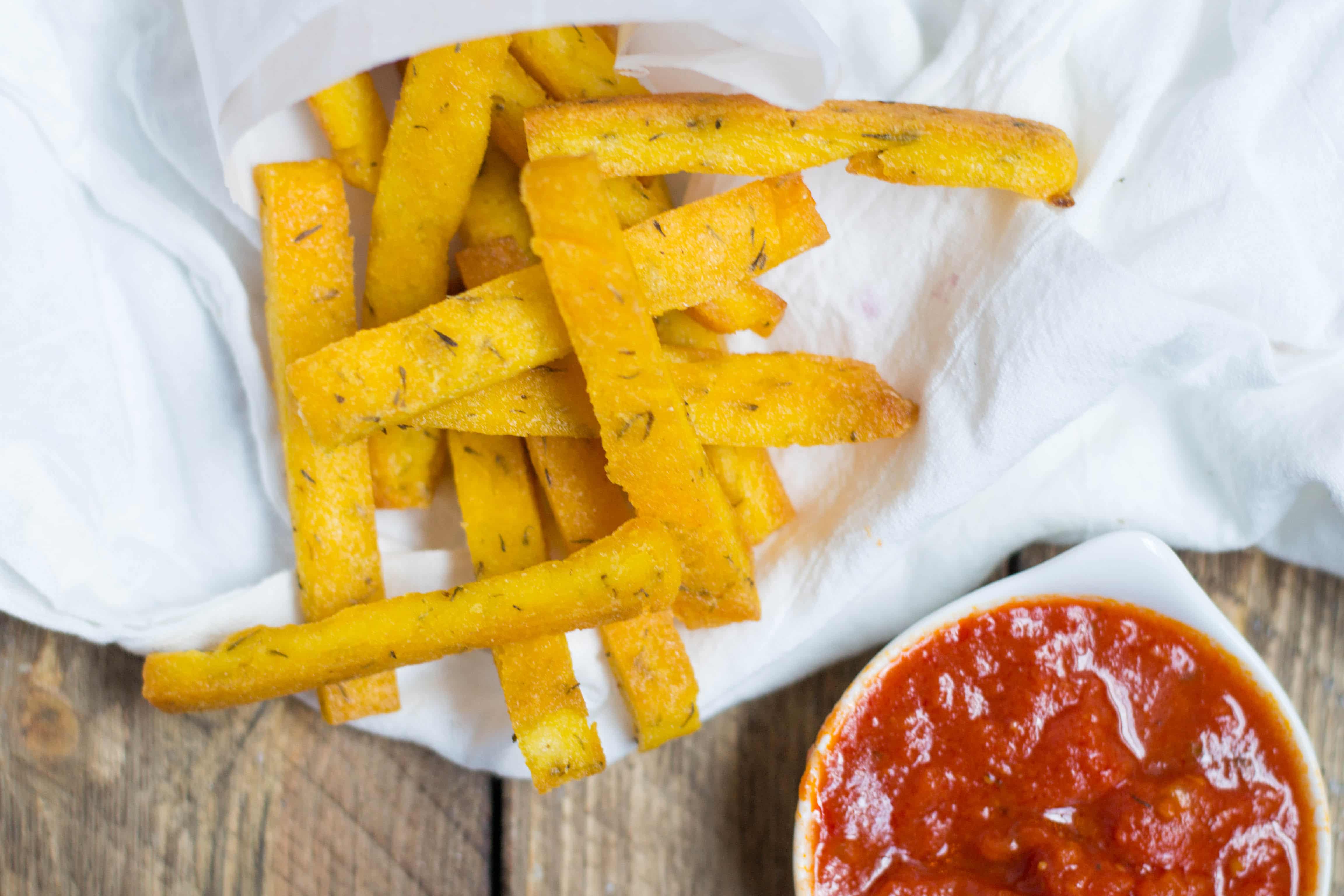 Beef Taco Potato Croquettes – Alright, friends. If you're going to fry anything for the big game… let it be these croquettes. Mashed potatoes get wrapped around taco spiced ground beef, fried to crispy perfection and then drizzled in an avocado lime sauce. I mean…. come on!
Pineapple Salsa – You can't go wrong with salsa for the Super Bowl! I love this version served in half of a pineapple which is always crowd pleasing, but jicama kiwi mango salsa and cherry tomato corn salsa are always a hit, too!
Everything is better with bacon! Bacon wrapped chicken bites with avocado dipping sauce are so easy to make and everyone loves them! I have a penchant for wrapping everything in bacon so if chicken isn't your thing, try these brown sugar bacon wrapped apples or bacon wrapped sweet potatoes!
Taquitos are a gluten-free girls best friend. Crunchy and satisfying. I use corn tortillas to keep my red potato and black bean taquitos gluten-free. Oh hey! They're dairy-free and vegan, too!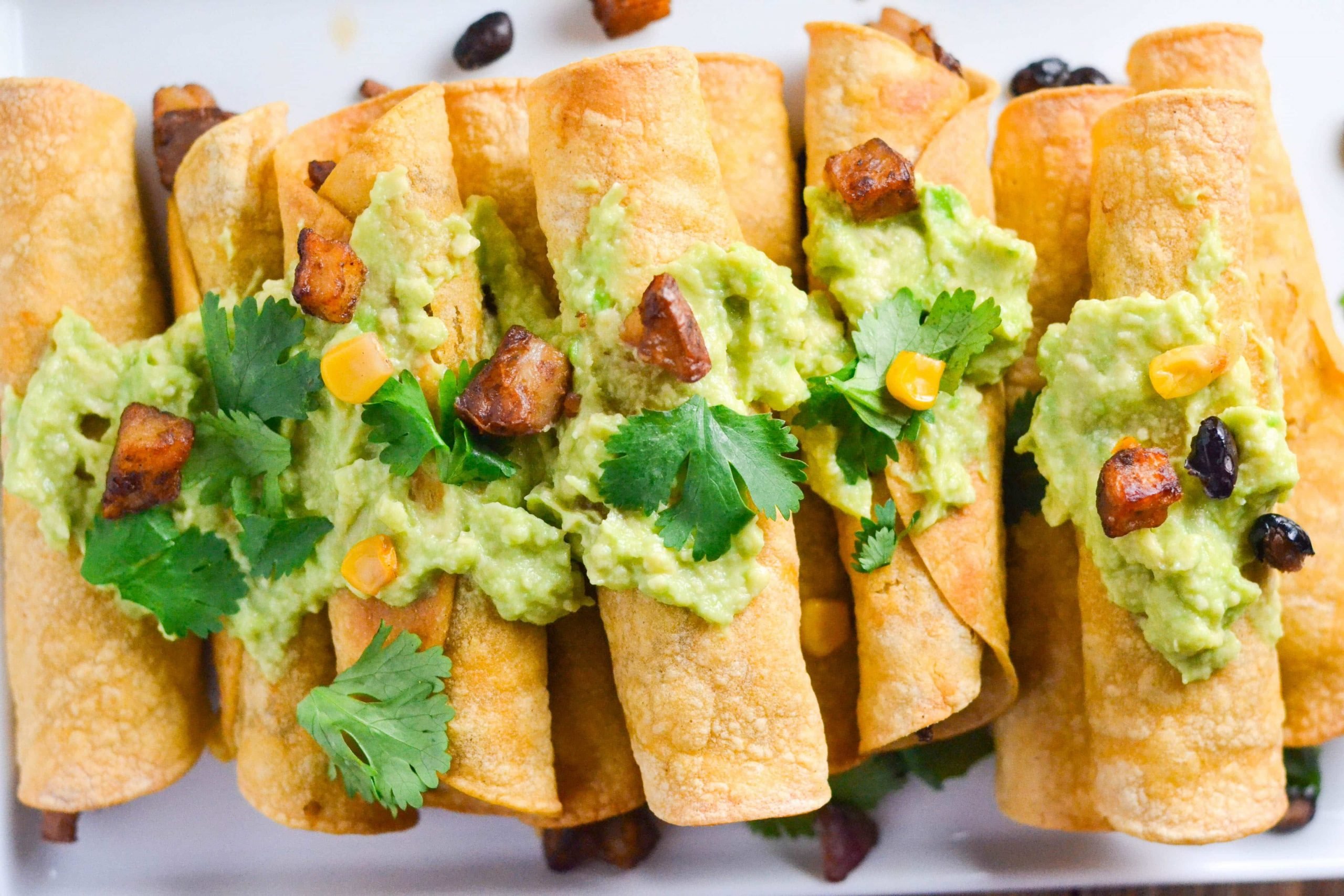 What are your favorite gluten-free recipes and survival tips for enjoying the big game? Tell me in the comments!