Want to spice up your holiday brunch or bring the best appetizer to your next party? This gingerbread candied bacon will do just that with a few simple gluten-free ingredients!
Bacon. Oh how I love thee.
My love affair with bacon runs deep. I'm actually known in my family and friends circle for how much I love bacon. After word spread about my celiac disease diagnosis, the number one consolation that friends and family would provide me with was "at least bacon is gluten-free." Yes, yes it is. And for that I am thankful.
As for avocados, but that's a whole different post. I can see it now.. a post on gingerbread candied avocado where I just pour my heart out about avocados. I swear I think I'm kidding. Maybe.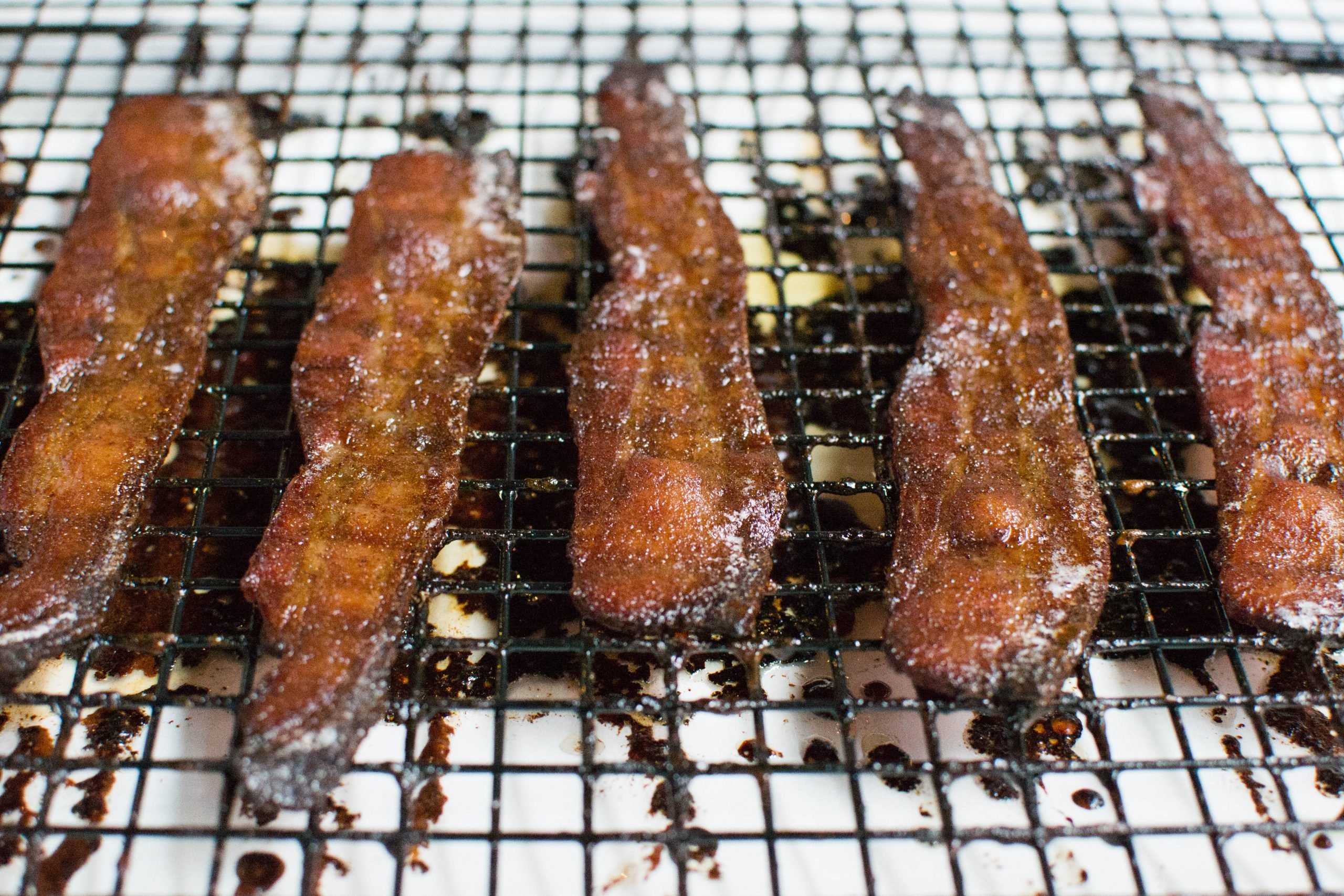 Anyways, bacon. Bacon has always been my breakfast go-to and now it's also my appetizer and dessert go-to with this candied bacon recipe. I never really know if candied bacon should be an appetizer, dessert or breakfast food.
But I honestly eat it for all three of those meals, so eat it for whatever floats your (bacon) boat on this one. You may be wondering what makes this candied bacon special.
Well friends, it's not just your average candied bacon, it's GINGERBREAD candied bacon. Now I've seen gingerbread candied bacon done before.
However, the recipe normally uses gingerbread syrup which I didn't want to use for two reasons. 1. I have no idea what gingerbread syrup is. 2. Since I don't know what it is, there's no way it's in my house and probably not in yours either!
I definitely wanted to use ingredients that we all probably had on hand because what good is a quick an easy appetizer if you have to run out to the store right?
Using molasses, maple syrup, and spices commonly found in gingerbread, I made a delicious candied bacon that was reminiscent of Christmas' favorite cookie! Take one bite and you'll taste the subtle hint of the molasses and ginger right away!
I love using molasses in this recipe because you get a bit of a smokey flavor that pairs so well with the bacon. The ginger and cloves also give the bacon that little warmth and bite that it needs to be gingerbread. Can't you just taste it right now?
Cut the bacon up in little bite size pieces as an appetizer or serve in a glass like I did and you'll be the star of this holiday! Better yet, serve it with some eggs (if unlike me you can eat eggs) for breakfast Christmas morning, too! Can you imagine how good that would be?
Tell me in the comments – how would you eat this gingerbread candied bacon! I'd love to hear your creative ideas! If you make this recipe, be sure to tag me on Instagram so I can share your photos on my feed!
Gingerbread Candied Bacon
Want to spice up your holiday brunch or bring the best appetizer to your next party? This gingerbread candied bacon will do just that with a few simple gluten-free ingredients!
Print
Pin
Rate
Ingredients
1

lb

thick-cut applewood bacon

1/4

cup

brown sugar

4

tbsp

molasses

2

tbsp

pure maple syrup

1

tbsp

ground ginger

1

tsp

ground cinnamon

1

tsp

ground cloves
Instructions
Preheat oven to 400F. Cover two sheet pans with aluminum foil and place a metal cooling rack on top of each pan. Place bacon pieces on top of cooling rack.

In a small bowl, mix together brown sugar, molasses, maple syrup, ginger, cinnamon and cloves. Brush tops of bacon with the molasses mixture.

Bake at 400F for 15 minutes. Flip the bacon over. Brush the new tops of bacon with the molasses mixture again. Bake for an additional 10-15 minutes, until bacon is browned and crisp. Watch to make sure bacon does not burn towards the end of the baking time.
Notes
If you use regular cut bacon instead of thick-cut bacon, you may need to reduce the bake time and also double the amount of molasses mixture you use.
Nutrition
Calories:
205
kcal
|
Carbohydrates:
12
g
|
Protein:
4
g
|
Fat:
15
g
|
Saturated Fat:
5
g
|
Cholesterol:
24
mg
|
Sodium:
254
mg
|
Potassium:
191
mg
|
Sugar:
11
g
|
Vitamin A:
15
IU
|
Calcium:
26
mg
|
Iron:
0.6
mg