DIY Magnetic Chalkboard Spice Tins
If you know me at all, then you know I love a good DIY project (probably the understatement of the year). I'd say over half of the decor in my apartment is from a DIY project. Not all of them work out so well and eventually get tossed
a.k.a. thrown into the back of my front closet
, but I also end up having some gems that I love and keep for a long time. This project is definitely a gem!
So when the spice rack that my sister bought me broke during my last apartment move, I knew I had to craft up a new one. Since I live in a one bedroom apartment in Chicago, space is tight and my kitchen has barely any room on the counter. I knew I wanted some kind of hanging spice rack to get it off the counter. Magnets just seemed like the way to go especially since I have a perfect little side of my refrigerator that isn't being used for anything. It definitely maximizes the space I have in the kitchen. It is also so nice to have all of my spices organized and at the ready so I can just grab whatever spices I need while I'm cooking. So convenient! I just love the way that these spice containers turned out! What do you think?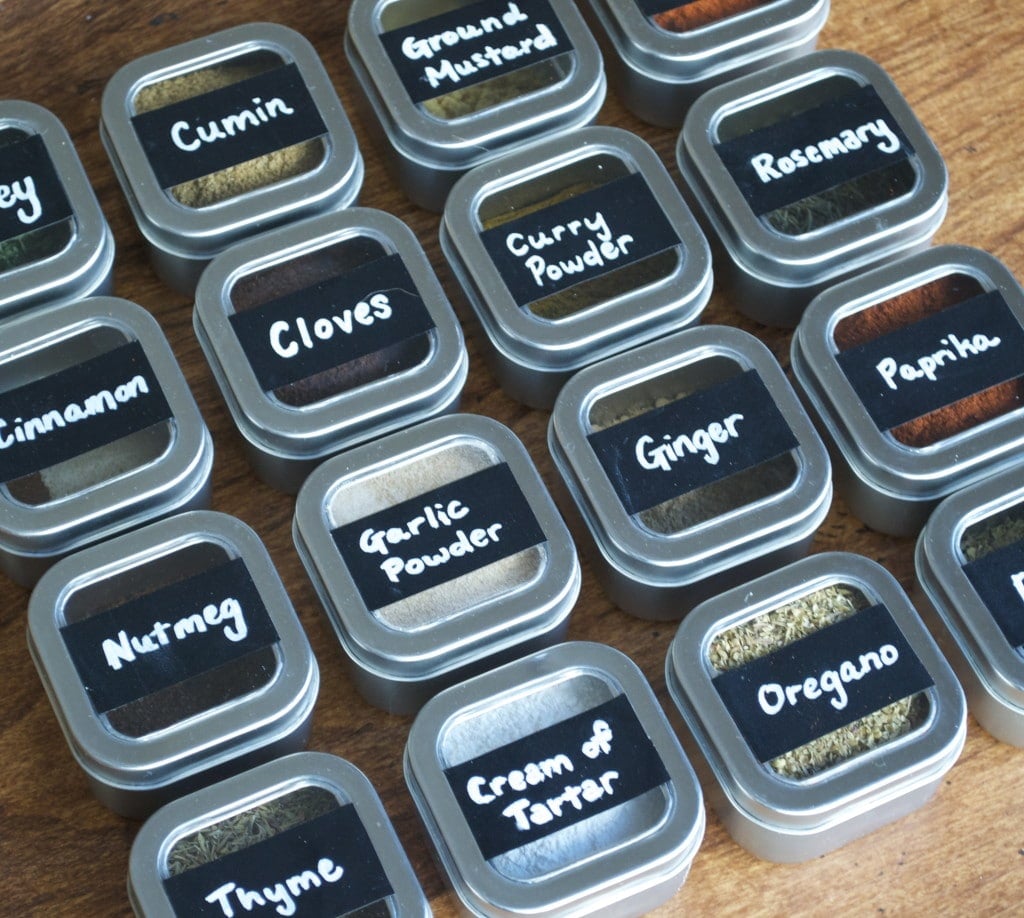 Supplies
Craft Magnets, 1/4″ X 1/16″
Directions
Turn over each spice container. Then, dab a little of the craft adhesive onto a toothpick, small paintbrush, straw, whatever. With the toothpick, brush a little of the glue in the four corners of the tin. You can also just do it directly with the adhesive bottle, but we found we had better control with a toothpick. Then, take a magnet and drop it onto each dot of glue. Allow to dry for 24 hours.
Then, measure the window of your spice tin and measure that out on your contact paper. Contact paper has grid lines on the back so I made each of mine two squares for the width. Carefully peel off the backing of the contact paper and place it on the window of the spice tin. With your chalkboard pen, write out each spice name on your contact paper. Allow to dry and then you are ready to fill with spices and put your tins on your refrigerator!
The best part is that the marker won't smudge with your hand, but if you ever want to change the name on the tin, you can! All you have to do is get a wet paper towel and rub the chalkboard paper. The writing will easily come off and you'll be able to write a new spice name almost immediately. This is awful helpful if you spell a spice name incorrectly the first time. Not that I did that! (Yes I did.)
Disclaimer: This page contains affiliate links from Amazon. By purchasing through these links A Dash of Megnut earns a small commission, however you will pay the same price for the item (it will not increase). I only link to items that I have purchased myself from Amazon and loved. Thank you for supporting A Dash of Megnut!
More DIY Projects You'll Love