DIY Glitter Christmas Trees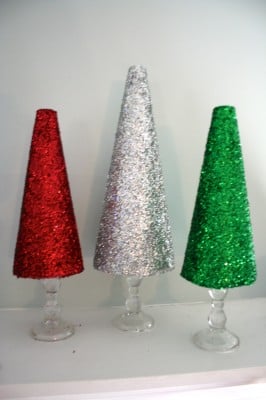 My sister, Katie, has really gotten into the Christmas spirit lately. Thanks to Pinterest she has loads of ideas of how she wants to decorate my parents house. This year, she kind of made the fireplace mantel "her baby." Her words, not mine. I love what she did with the fireplace. It's very festive. My favorite is the cupcake tower filled with ornaments. So simple and pretty!
My contribution to the mantel was making the glitter christmas trees with Katie and Amy over Thanksgiving. This project was a little messy but extremely easy. I think the results are absolutely adorable! I want to make some for my house now! We let Katie do the first tree and we learned a few things from that. At first we didn't put foil on top of the baking sheet which made it really hard to get the glitter off the baking sheet and difficult to change glitter colors quickly. So, I definitely recommend using foil or wax paper or something so that you can just funnel the glitter back into its container. There's far less waste doing it this way. Also, she didn't wear gloves and the spray adhesive is extremely sticky. She spent a good 10 to 15 minutes trying to get the glue and glitter off her hands. You could use Elmer's glue if you want and wouldn't have to disposable gloves, but the spray adhesive is much quicker and does a better job. When Amy and I did the second and third tree, we both wore gloves and had a much easier time cleaning up. Learn from Katie's messy hands. Overall, this project is such a cute idea for Christmas and I will definitely be doing it again to create some trees for my own house.
Supplies:
3 styrofoam trees
3 candlesticks
spray adhesive
glitter
hot glue gun and glue
baking sheet and foil (for easy clean up)
plastic gloves (optional)
Directions:
Line a baking sheet with foil. Pour glitter into a small pile on the foil. Put on some disposable gloves. Spray the styrofoam tree with spray adhesive. Roll the tree in the glitter.
Spray the top of the tree and the bottom and press into the glitter. Allow to dry completely.
With a hot glue gun, attach the candlestick to the bottom of the tree. Dry overnight. Repeat with remaining trees.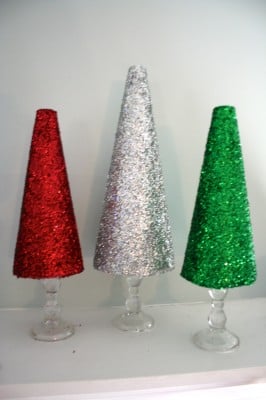 Source: Idea originally from eighteen25