Well people, I haven't really felt like baking lately. Since I found out I had Celiac's disease over a year ago, I still haven't felt well. Like ever. I first thought it was just my stomach needing more time to heal, but I started thinking something was amiss. I've been working with a nutritionist and took a whole bunch of tests and lo and behold, more intolerances. I was suspecting dairy because really, we've had a rocky relationship in the past. Dairy is that friend that you love hanging out with and makes your night out incredible fun, only to be in bed the next morning and you're like "Wow! I need to stop hanging out with dairy so much.." So dairy was a given, and I wasn't surprised in the least when I found out about that intolerance. But eggs and yeast – Oy, I was not expecting that! What's worse is NO SUGAR! I mean what! I stared at the nutritionist in disbelief when she told me that I couldn't eat sugar any more, in any form – honey and agave nectar included. So in terms of food, my life is a little wonky right now. I'm determined to figure out how to bake something I can eat and I'm sure I'll talk about this a little more in one of my future posts, but for now I'm a little overwhelmed with what I can even eat at this point. And so, if we can't bake, we craft!
So today, I have for you an update on the Glitter Christmas Trees my sisters and I made a few years ago for our parents' house. I wanted to do some decorating only an empty table I have under my TV to make it all cheery while I relax and watch TV at night. I added a few candles and a festive canvas and decided that some Christmas trees were in order. I'm not sure how I decided to make color blocked trees but I really love the way they ended up turning out! They were a little complicated since I used two different kinds of glue (mostly because I'm lazy and the spray adhesive definitely saves time for the first round of glittering) but you could definitely do just Elmer's glue. I'm sure only using spray adhesive would work too but I didn't want to cover the newly dried glitter with more foil since I wasn't sure if it would fall off or not. So I like my method and it worked for me, but definitely go ahead and change up the process and do what works for you! I really hope you enjoy this craft! If you decide to make them, I would love to see a picture in the comments section!
You Will Need:
3 craft styrofoam cones (I got mine here)
glitter (I used red, green and gold)
glue (I used both Elmer's glue and spray adhesive)
small paint brush
aluminum foil or painters tape
3 birch rounds (I bought mine at Joann's)
hot glue gun
hot glue sticks
Directions:
Line your glitter space with paper or foil or something to make this a little less messy. What I did was have two stations. One was my gluing station and one was my glitter station so that I could reuse any glitter that fell off the tree. I lined two baking sheets with foil and placed a sheet of paper on the baking sheet for the glitter to catch it a bit easier.
Tape off or form foil over the part of the foam cone that you do not want to glitter first. I used foil which worked quite well and then trimmed off any excess with my x-acto knife.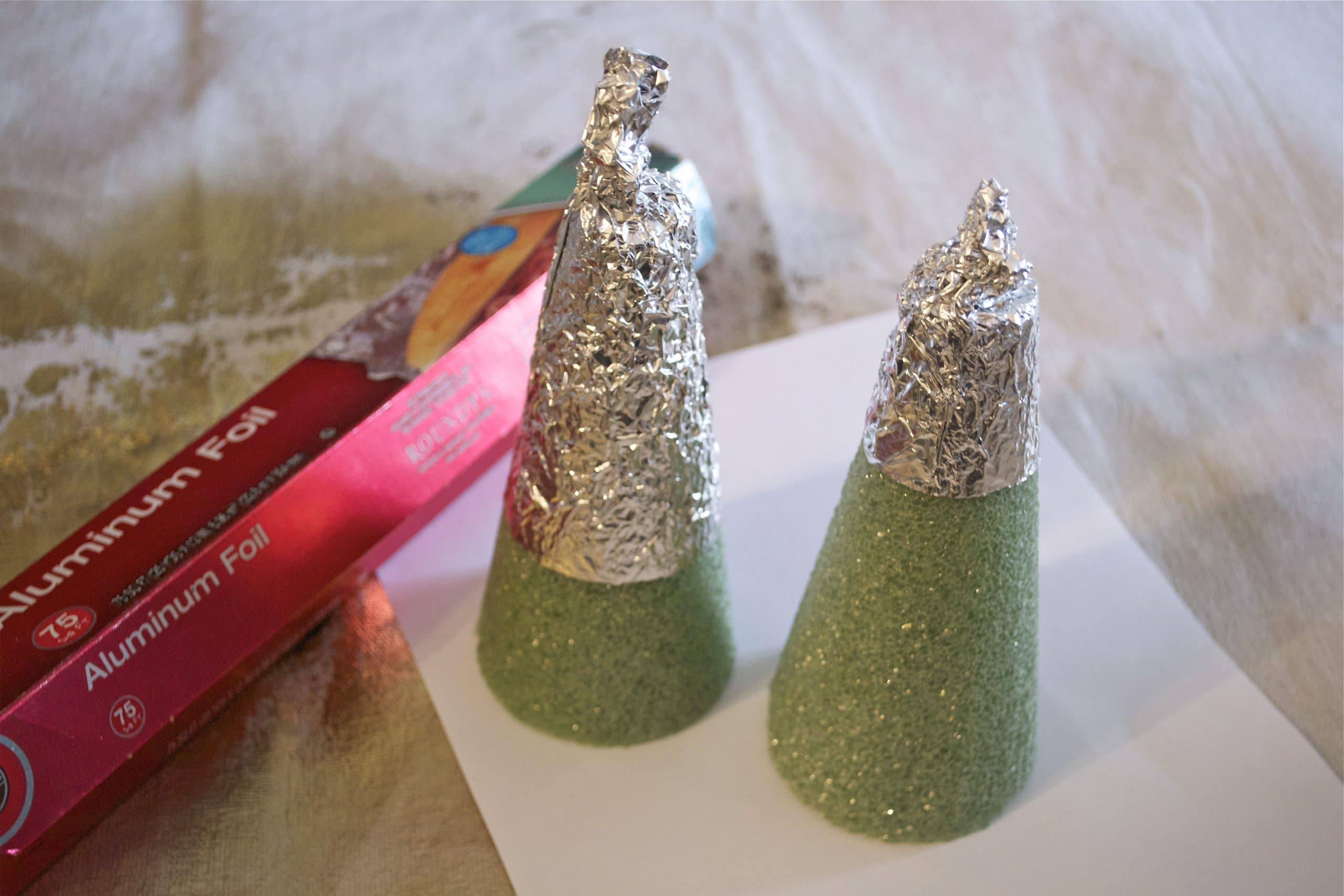 With spray adhesive, spray the portion of the cone that you want to glitter. Then pour the desired glitter color over the cone until completely covered. Set aside to dry completely.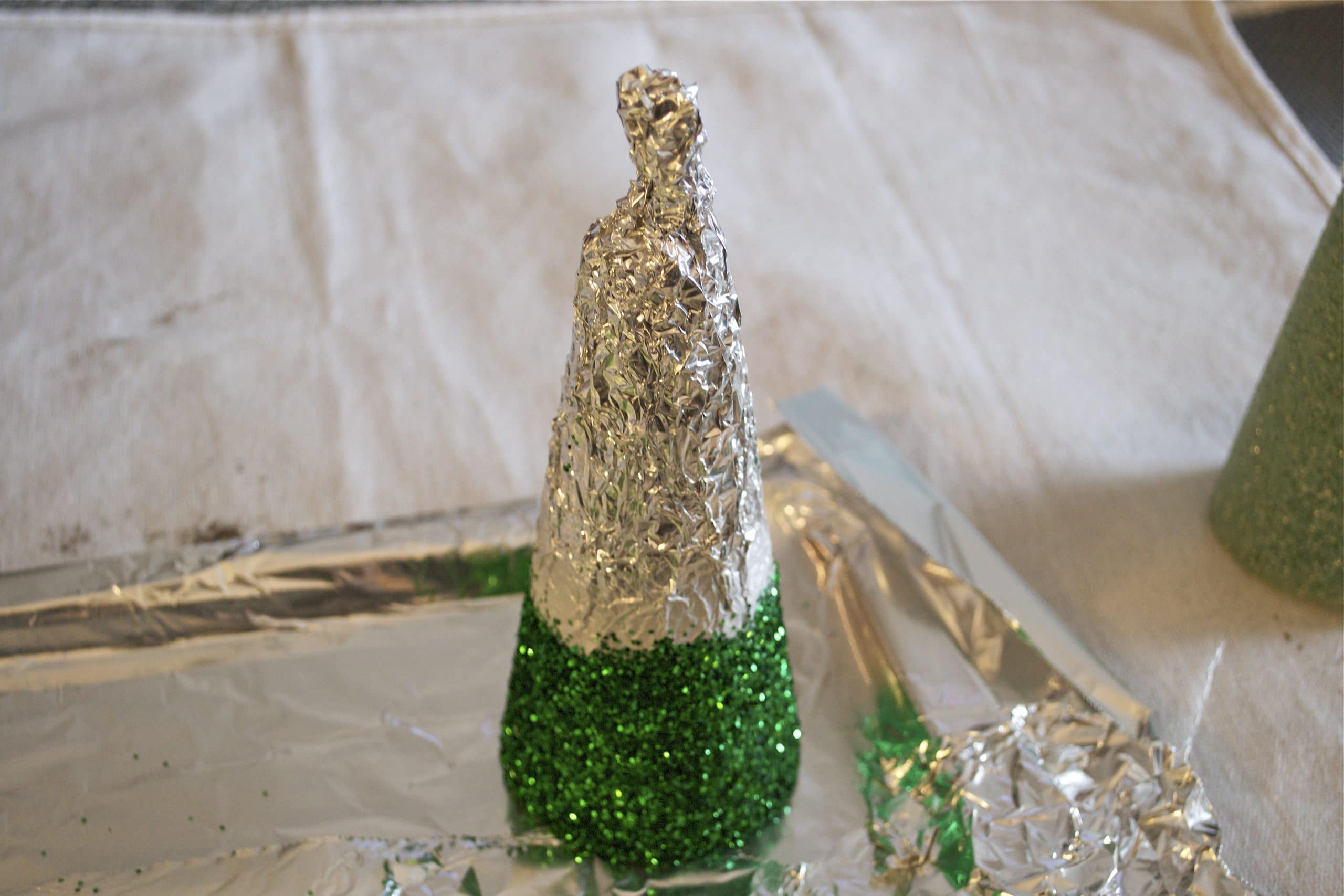 Once each cone has dried, take off the tape or foil. Then using Elmer's glue paint the remaining part of each cone with the glue and pour a different color glitter over the cone to contrast the other half of the cone. (I did not really measure where I wanted my two colors to start/end. I just basically wanted then to be 1/3 one color, 2/3 another color. So you can use a ruler if you would like.) Set the cones aside to dry completely. Once the cones have dried, attach the birch rounds to each cone using hot glue and allow to dry. You're done!