These derby horse sugar cookies are fun for the Kentucky derby or just for the horse lover in your life! Gluten-free, too!
Ladies grab your hats! Gentlemen grab your bow ties! It's Derby time! (And everyone grab a mint julep because I said so!)
The Kentucky Derby is coming up this Saturday, which means parties galore to watch the historic two minute race! Am I the only one that picks which horses they want to win based solely on their names? Of course I'm not. I feel like it's always kind of a gamble (well, duh) of who is going to win, so picking by which name I like best has worked best for me. Well, I can't say I've actually ever won anything, so I guess it's not the best approach. You probably shouldn't listen to me at all actually. I'm the worst at betting. However, this year, my bets are on Danzig Moon. So if you're smart, choose a different horse, because I guarantee you I won't win!
This year, we're not only celebrating the Kentucky Derby, but also a birthday! It's Michael's sister-in-law, Linda's, birthday this week – so to celebrate, she's throwing a Kentucky Derby themed bash at her house, full of Derby decorations, food and of course, watching the main event. I was thrilled when Linda asked me to make some cookies to fit the theme of her party. I was so excited that two minutes after talking to her, and I was on Amazon buying a horse cookie cutter. My cookie cutter selection is getting absurdly large and it's kind of awesome! But, it took every ounce of my being to not also buy at least five other cookie cutters for the sake of space in my baking cabinet. I had them all in the check out basket and then some sort of will power kicked in which made me delete them. And now you all know my ultimate weakness, and it's cookie cutters.
Back to the adorable horse cookies. I think they would be great for so many other events aside from the Kentucky Derby, though I do think they'll become a staple in my Derby celebrations each year going forward. Kids' birthday parties, rodeo themed parties, a casual tuesday at work… Any occasion really! If you're looking for a cookie design for your next party, make these cute little Derby horse cookies! I can't wait to bring them to the party this weekend!
Which horse are you betting on to win the Kentucky Derby?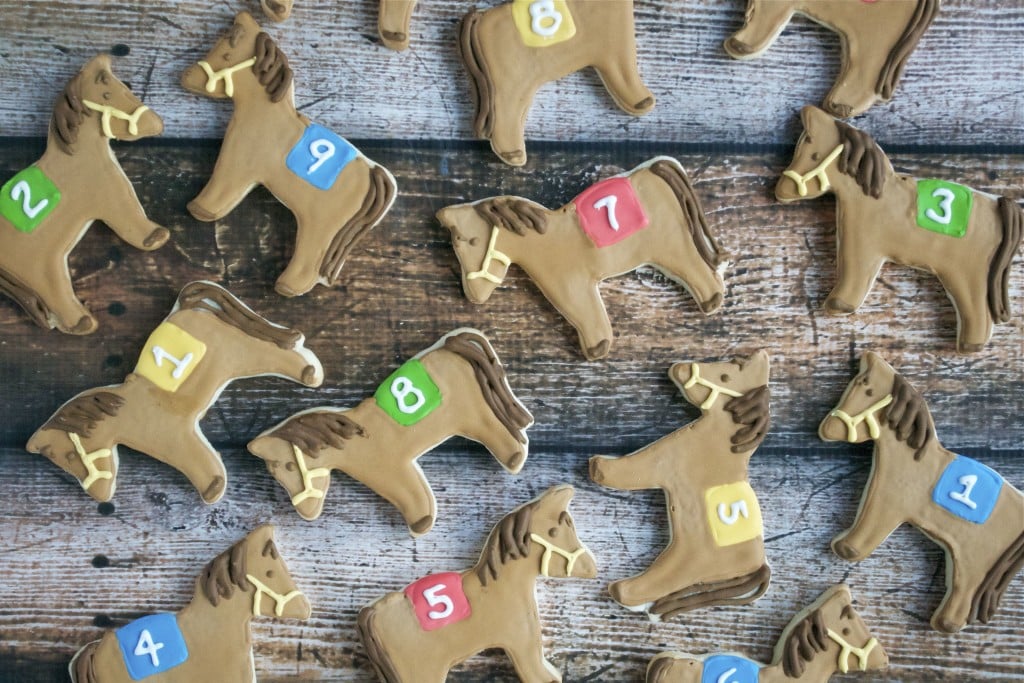 Derby Horse Cookies
These derby horse sugar cookies are fun for the Kentucky derby or just for the horse lover in your life! Gluten-free, too!
Print
Pin
Rate
Ingredients
Sugar Cookies
1

cup

butter

(softened)

1

cup

powdered sugar

2

tsp

almond extract

1

tsp

pure vanilla extract

1

tsp

salt

1

egg

2 1/2

cups

flour

(all purpose flour or gluten-free blend - see notes*)
Royal Icing
4

cups

powdered sugar

(sifted)

2

tbsp

meringue powder

5

tbsp

water

1

tsp

vanilla or almond extract

(optional)

gel food dye

(lime green, golden yellow, red, royal blue, dark brown, light brown, white)
Instructions
Cream butter and powdered sugar in a large bowl with an electric mixer. Mix in egg, vanilla, almond extract and salt and beat until mixed well.

Gradually add in flour(s) (1/2 cup at a time) and mix after each addition. Be sure not to over mix. I use the electric mixer for the first 2 cups of flour and then hand mix the last 1/2 cup.

Put dough in the refrigerator for an hour or so, or until the dough firms up. You can also put it in the freezer but I would only do that for 20-30 minutes otherwise it's very difficult to roll out. Sprinkle your work surface and rolling pin with powdered sugar.

Roll the dough out to a 1/4 inch thickness. Cut with cookie cutters. Place on a greased cookie sheet and put back in the freezer for 10-15 minutes.

Then, bake in the oven at 375 degrees Fahrenheit for 8-10 minutes or until cookie all the way through. The cookie should not brown, but the edges can be slightly browned (that's a good indication it's done). Cool on a wire rack.

In a bowl of an electric mixer fitted with the whisk attachment, combine the powdered sugar, meringue powder and water. Mix for 7-10 minutes, until the ingredients are well blended and the icing has a matte finish. This is the base consistency. I usually add about 1 tsp more of water for a good outline icing (I use a 10 second rule) and add more water until I reach a 4-second icing for flood icing. This means that when you drizzle icing over the bowl of royal icing then the icing will flow back in with the rest of the icing in 4 seconds (10 second icing is the same but it will sink back in with the rest of the icing in 10 seconds). If you need to thin it out more then add more water. If you need to thicken it add more powdered sugar.

Follow my pictogram below to decorate the cookie. For the outlines, I used a 4-second icing, as described above. You will need to make the following colors in the outline consistency: light brown, dark brown, white, lime green, golden yellow, red, and royal blue. I use a #2 or #3 tip to outline anything. I use a #1 tip to do the numbers (white icing). You will need to make the following colors in the flood consistency: light brown, green, blue, yellow and red. I use a squeeze bottle to distribute any flood icing and a toothpick to drag it to the edges of the outlines.
Notes
*gluten-free flour mix (sift together in a large bowl and set aside)
1 1/8 cup brown rice flour
1/2 cup + 1 tbsp white rice flour
1/2 cup + 1 tbsp potato starch
1/8 cup tapioca flour
1/8 cup cornstarch
1 1/2 tsp xanthan gum
Nutrition
Calories:
289
kcal
|
Carbohydrates:
46
g
|
Protein:
2
g
|
Fat:
10
g
|
Saturated Fat:
6
g
|
Cholesterol:
36
mg
|
Sodium:
224
mg
|
Potassium:
24
mg
|
Sugar:
32
g
|
Vitamin A:
330
IU
|
Calcium:
7
mg
|
Iron:
0.9
mg