Last Updated on
This post is going to be a rant with some chocolate if that's okay. Because today, I feel like letting off some steam about a small obstacle I'm facing and I want to be real with you. If you haven't noticed, I'm on the sugar-free grind lately.
I have been on the candida diet/cleanse for the past month or so. This is literally the hardest diet I have ever been on. I thought that when I started eating gluten-free due to my celiac disease that it would be difficult enough.
Now the restrictions are so severe I constantly feel like I'm missing out on so many foods that I have been accustomed to eating. I crave sugar like no other everyday and have the worst time satiating my sweet tooth.
I'm frustrated. I'm hungry. But, I'm learning.
I actually kind of like relearning how to cook under my restrictions and how to keep myself nourished without feeling deprived. I think the one thing this diet has forced me to do is to appreciate the food that we are provided and where it comes from.
We'll see where it goes from here, but I am just so grateful that I can document this journey and make myself healthy again through the power of food.
So, now comes the real reason you all are here. The chocolate. When I crave something that I can't eat, I try to set out to create something that will satisfy my hankering while adhering to my diet.
These chocolate coconut almond butter cups are candida friendly, gluten-free, dairy-free, sugar-free, paleo friendly AND extremely satisfying!
They're not super sweet since I used stevia (and it takes awhile to get used to the aftertaste of stevia in my opinion); However, you can use more or less stevia depending on your taste buds, or even honey or maple syrup if you don't need to follow the candida diet.
I can't wait to try some new variations of this recipe and experiment with other flavors! Chocolate mint cups anyone?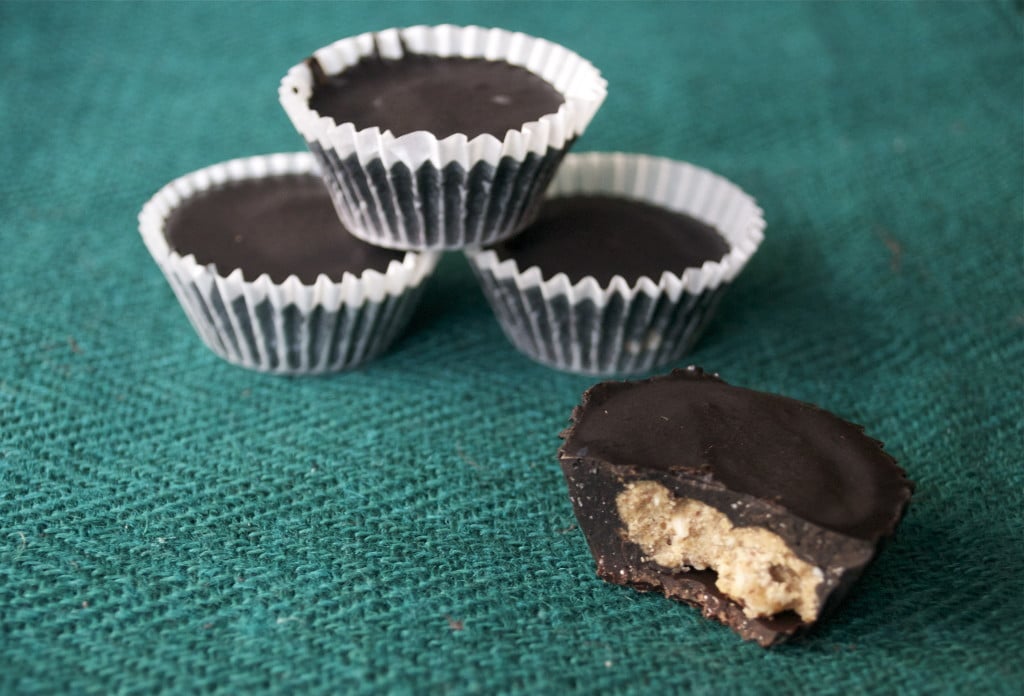 Print Recipe
Chocolate Coconut Almond Butter Cups
These chocolate coconut almond butter cups are candida friendly, gluten-free, dairy-free, sugar-free, paleo friendly AND extremely satisfying!
Ingredients
For the Chocolate:
1

cup

cocoa powder

1/2

cup

coconut oil

melted

60

drops

liquid stevia

or use 1 tbsp maple syrup

1

teaspoon

pure vanilla extract

1/2

teaspoon

ground cinnamon

1/8

teaspoon

salt
For the Filling:
1/4

cup

almond butter

no sugar added

2

tablespoons

coconut flour

2

tablespoons

unsweetened shredded coconut

1

tablespoon

coconut oil

liquid stevia

to taste

1/4

teaspoon

cinnamon

1/8

teaspoon

salt
Instructions
Line mini muffin tins with paper liners and set aside.

To make the chocolate, add melted coconut oil, vanilla, cocoa powder, salt, cinnamon and liquid stevia to a bowl. I used about 60 drops of liquid stevia but adjust to your tastes.

Then spoon chocolate into the mini muffin cups to just cover the bottom. Place in the freezer to set for 10-15 minutes.

In the meantime, to make the filling, combine melted coconut oil, almond butter, coconut flour, shredded coconut, stevia, salt and cinnamon in a bowl. I used about 10 drops of liquid stevia for the filling, but again, adjust to your tastes.

Place filling in the refrigerator for 10 minutes or so to stiffen up.

Then, form little balls with the filling and drop them into the muffin cups.

Using the remaining chocolate, cover the filling completely. Freeze until set and ready to eat.
Nutrition
Calories:
151
kcal
|
Carbohydrates:
6
g
|
Protein:
2
g
|
Fat:
15
g
|
Saturated Fat:
10
g
|
Sodium:
53
mg
|
Potassium:
154
mg
|
Fiber:
3
g
|
Calcium:
27
mg
|
Iron:
1.2
mg
Note: Please note, I am an accountant, not at all a healthcare professional. If you are on the candida diet, please consult with your doctor or nutritionist to confirm what you are able to eat on the diet. All information is based on my personal experiences on the diet. Not to mention, there are a bazillion forms of the candida diet out there.