Chicago Blackhawks Sugar Cookies
These Chicago Blackhawks sugar cookies are a fun way to show your hockey pride! They're gluten-free, too!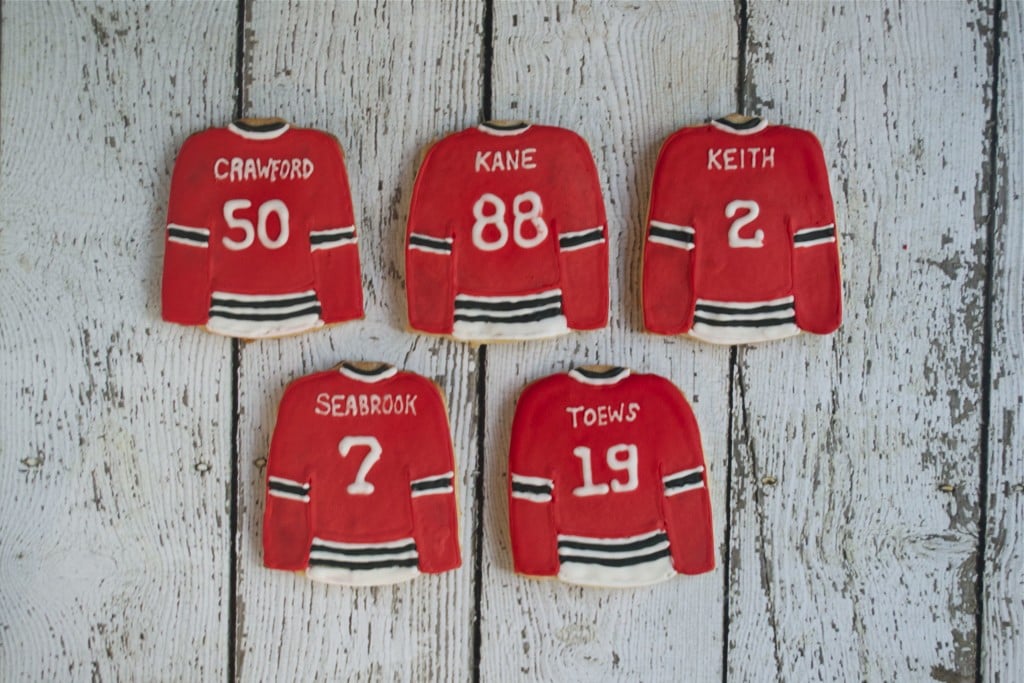 Warning: there are a fair amount of horrible puns (I'm not even sure we can call them puns) in the next two paragraphs. You may want to look away.
I'm a huge Blackhawks fan. I don't know how many of you have been following the NHL Stanley Cup Finals, but spoiler alert, the Blackhawks are in them. It's 2-1 and the Blackhawks are down one game, with a home game tonight at the United Center. I was at the game on Monday with my sister, Amy, for a disappointing loss, so I was feeling like I needed to bring some good luck to the boys. I do that the only way I know how: baking cookies—Chicago Blackhawks Sugar Cookies to be exact.
Am I the only one that feels like baking sugar cookies in a specific shape and then decorating them will somehow bring good luck? Yeah? If you all think I'm a hoser, you're probably right. But I like this idea, and I'm sticking with it! I probably should have made a Bickell or Sharp cookie, because they could use the luck if you know what I'm sayin'.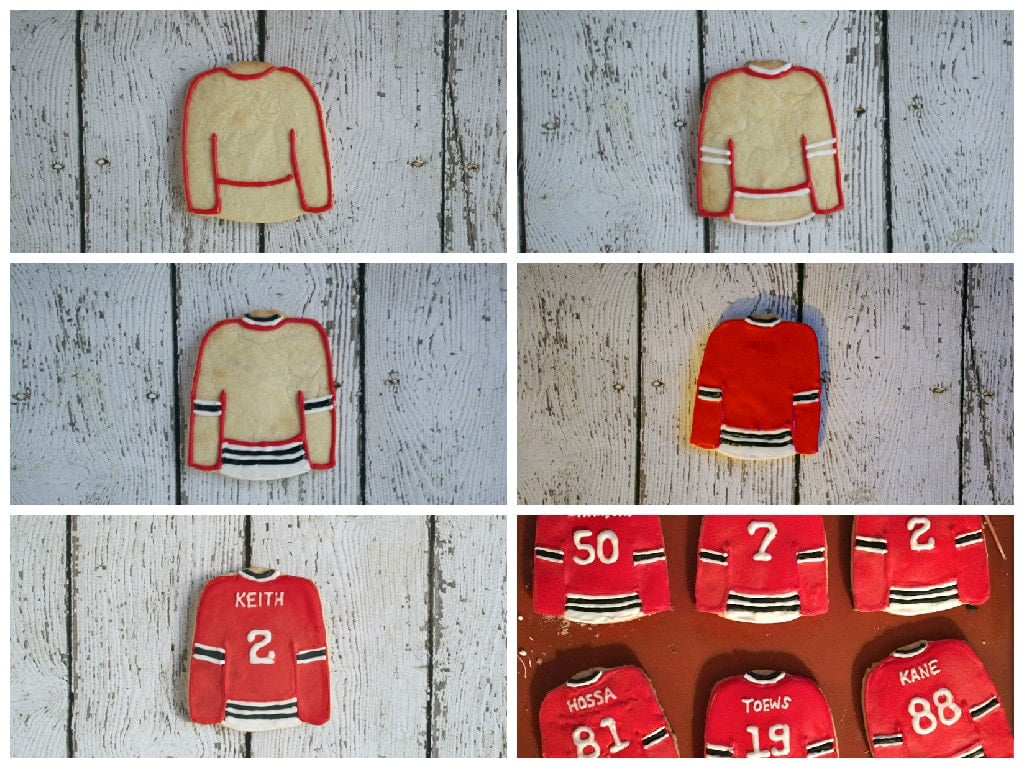 I will admit that a Marian Hossa cookie did get injured in the making of these cookies, but I'm calling it a healthy scratch since it still tasted so good! This was surprisingly my first complete attempt at a Blackhawks cookie. I've tried in the past to make the logo and while close, never actually finished the design. So this time I started off a bit simpler with just the backs of their sweaters. I started the longer names first, which probably wasn't my best idea since I hadn't figured out the spacing too well yet. If you're doing a Hjalmarsson or Teräväinen cookie, you may want to keep that in mind before icing the cookie. No one likes an icing call.
If you want to decorate these power play of a cookie, follow my pictogram below! These cookies are sure to hook your friends and family!
Let's go Hawks!!
Chicago Blackhawks Sugar Cookies
These Chicago Blackhawks sugar cookies are a fun way to show your hockey pride! They're gluten-free, too!
Print
Pin
Rate
Ingredients
Sugar Cookies
1

cup

butter

(softened)

1

cup

powdered sugar

2

tsp

almond extract

1

tsp

vanilla

(make sure it is gluten-free)

1

tsp

salt

1

egg

1 1/8

cup

brown rice flour

1/2

cup

+ 1 tbsp white rice flour

1/2

cup

+ 1 tbsp potato starch

1/8

cup

tapioca flour

1/8

cup

cornstarch

1 1/2

tsp

xanthan gum
Royal Icing
4

cups

powdered sugar

(sifted)

2

tbsp

meringue powder

5

tbsp

water

1

tsp

vanilla or almond extract

(optional)
Instructions
To Make Cookies
In a medium bowl, whisk together brown rice flour, white rice flour, potato starch, tapioca flour, cornstarch and xanthan gum. Set aside.

Cream butter and powdered sugar in a large bowl with an electric mixer.

Mix in egg, vanilla, almond extract and salt and beat until mixed well.

Gradually add in flour (1/2 cup at a time) and mix after each addition. Be sure not to over mix. I use the electric mixer for the first 2 cups of flour and then hand mix the last 1/2 cup.

Put dough in the refrigerator for an hour or so, or until the dough firms up. You can also put it in the freezer but I would only do that for 20-30 minutes otherwise it's very difficult to roll out. Sprinkle your work surface and rolling pin with powdered sugar.

Roll the dough out to a 1/4 inch thickness. Cut with cookie cutters. Place on a greased cookie sheet and put back in the freezer for 10-15 minutes.

Then, bake in the oven at 375 degrees Fahrenheit for 8-10 minutes or until cookie all the way through. The cookie should not brown, but the edges can be slightly browned (that's a good indication it's done). Cool on a wire rack.
To Make Royal Icing
In a bowl of an electric mixer fitted with the whisk attachment, combine the powdered sugar, meringue powder and water.

Mix for 7-10 minutes, until the ingredients are well blended and the icing has a matte finish. This is the base consistency. I usually add about 1 tsp more of water for a good outline icing (I use a 10 second rule) and add more water until I reach a 4-second icing for flood icing. This means that when you drizzle icing over the bowl of royal icing then the icing will flow back in with the rest of the icing in 4 seconds (10 second icing is the same but it will sink back in with the rest of the icing in 10 seconds). If you need to thin it out more then add more water. If you need to thicken it add more powdered sugar.
To Decorate Cookies
To decorate the cookie, I used a picture printed from the internet and cut around the picture. You can also use a hockey jersey cutter if found.

Outline the cookie using red icing (10 second icing), leaving a space at the bottom to outline in white.

Outline bottom part of jersey with white icing (10 second icing).

Add black and white strips (10 second icing) to sleeves, collar, and bottom of jersey. Allow to dry.

Flood jersey with red icing (4 second icing). Allow to dry completely.

Using 10 second white icing in pastry bags fitted with a number 2 tip, add jersey numbers to the cookie.

Using 10 second white icing in pastry bags fitted with a number 1 tip, add last names above the numbers.
Notes
You can use 2 1/2 cups of all purpose flour instead of the gluten-free flour blend.
Follow my pictogram below to decorate the cookie!
Nutrition
Calories:
301
kcal
|
Carbohydrates:
49
g
|
Protein:
1
g
|
Fat:
10
g
|
Saturated Fat:
6
g
|
Cholesterol:
36
mg
|
Sodium:
234
mg
|
Potassium:
82
mg
|
Fiber:
1
g
|
Sugar:
32
g
|
Vitamin A:
330
IU
|
Vitamin C:
0.2
mg
|
Calcium:
8
mg
|
Iron:
0.3
mg