Blueberry Tortilla Pockets
These blueberry tortilla pouches are a great way to use up leftover corn tortillas. Gluten-free and dairy-free.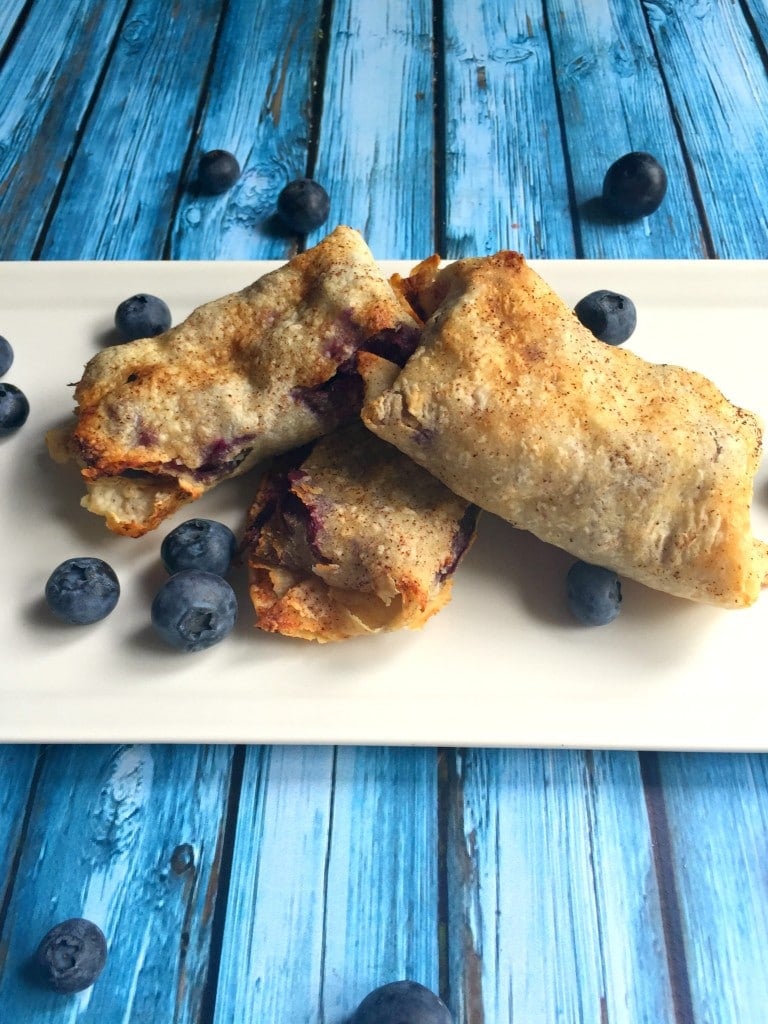 The idea for this dessert came out of pure hunger. I had gone grocery shopping the day before and spotted 2 quarts of blueberries for $2.99. Talk about a steal! Not knowing what would come of them, I dropped them in the cart and went on my merry way. Flash forward to the next day, watching yet another Harry Potter marathon and just absolutely starving. I was determined to make a quick and easy dessert that would take 20 minutes or less to get in my belly. You know, so I could make it during the commercials and keep on my with my movie marathon (I obviously have my priorities in check). With a few simple ingredients, I was able to make all of my hungry blueberry wishes come true! Most of the ingredients for this dessert are pretty common and you may even have them in your kitchen right now! The only one that is a little different is the coconut oil, which if you've been following my blog for some time, you probably already own since it is a staple in a lot of my recipes.
So did these blueberry tortilla pockets satisfy my mid day craving? You bet they did! They are quick to make, require only a few ingredients, and are so tasty! Seriously, the hardest thing about this dessert was figuring out what I would name them! They are definitely going to be my new go-to recipe when I find myself with a hankering for dessert. With a slightly sweet and crunchy outside, and a filling bursting with warm blueberries and cinnamon, how could you possibly go wrong? These blueberry tortilla pockets are best served right out of the oven as the tortillas tend to get soggy after awhile. I bet they would taste absolutely divine with some ice cream. Actually, I think I might go grab some vegan sugar-free ice cream right now to top of my batch. Off to the store I go!
Blueberry Tortilla Pouches
These blueberry tortilla pouches are a great way to use up leftover corn tortillas. Gluten-free and dairy-free.
Print
Pin
Rate
Ingredients
For the filling:
1

cup

fresh blueberries

1

tbsp

lemon juice

1/2

tsp

cinnamon

2

tsp

honey

1

tsp

cornstarch or tapioca flour
For the crust:
6

white corn tortillas

2

tbsp

coconut oil

(melted)

1/2

tsp

cinnamon

1

tsp

honey

(to taste)

1

tsp

honey or maple syrup

(to drizzle on top (optional))
Instructions
Preheat oven to 375F. Line a baking sheet with parchment paper.

In a small bowl, combine blueberries, lemon juice, cinnamon, honey and cornstarch. Carefully mix together until the blueberries are completely covered. Let sit for at least 5 minutes.

Place corn tortillas on a paper towel and microwave for 15-20 seconds.

Immediately lay corn tortillas onto the baking sheet. Fill each tortilla with blueberries. Roll the tortilla, pinching in at the sides as you roll. Place seam side down on the baking sheet.

In a small bowl, mix together coconut oil, cinnamon and honey. Mix together with a spoon, until the honey is combined. With a pastry brush, brush the coconut oil mixture all over any visible part of the tortillas.

Bake at 375F for 8-10 minutes, until the tortillas are lightly browned and crispy.

Drizzle with honey or maple syrup, if using. (I typically do not but it adds an extra little touch of sweetness.)

Serve immediately.
Notes
I put the tortillas in the microwave in order to make them soft enough to work with. If they are cold, they will easily break when trying to roll them.
As always feel free to add more sweetener to this recipe to suit your tastes. I don't like a lot of sweetener as I try to keep my sugar intake low.
Nutrition
Calories:
126
kcal
|
Carbohydrates:
19
g
|
Protein:
1
g
|
Fat:
5
g
|
Saturated Fat:
4
g
|
Sodium:
12
mg
|
Potassium:
67
mg
|
Fiber:
2
g
|
Sugar:
6
g
|
Vitamin A:
15
IU
|
Vitamin C:
3.4
mg
|
Calcium:
25
mg
|
Iron:
0.4
mg