It's here! It's HERE! IT'S hereeee!
Football season is here ladies and gents! And you know what that means.. lazy Sundays sitting on the couch watching football, fan rivalries with my Packer friends up north, me hopefully winning back my money in my football draft (pretty please?), and lots and LOTS of food!
But that last reason is the real reason we're all here right? I'm talking cheesy nachos, greasy fried wings, hearty chili with cornbread, and loaded pasta salads.
Wait a second, what are we supposed to do if we can't eat gluten? We should probably sit and wallow in the sadness that we will not be able to fully enjoy all the foods of the football season, right? NO! WRONG! Just because gluten (and other intolerances) may be out of the picture does not mean we have to sacrifice this glorious time of year! Whether you have celiac disease, avoid gluten for other reasons or just plain want to try something new – I've got you covered!
I gathered recipes from my friends who are some of the best food bloggers out there to get their favorite "healthy-ish" gluten-free recipe for football season. I say healthy-ish because I'm not a nutritionist and I'm well aware some of these aren't the healthiest, but also not the worst!, options out there (cough bacon cough). But, it's football season – let's live a little. We have everything from chili to wings to hummus on this round-up – Everything you could possibly need to get you going for your tailgating, football parties, or couch watching this season!
What's your favorite gluten-free football season recipe? Tell me in the comments!
**Note: Please make sure you read all ingredients when buying products to make sure they are gluten free. Different brands may or may not be gluten-free!**
Bacon Wrapped Sweet Potato Bites | A Dash of Megnut
Maple Sesame Sticky Wings | Local Savour
Quick and Easy Curly Fries | Pumpkin and Peanut Butter
Slow Cooker Chili | Chattavore
Bacon and Roasted Bell Pepper Guacamole | A Dash of Megnut
Tortilla Chips | Personally Paleo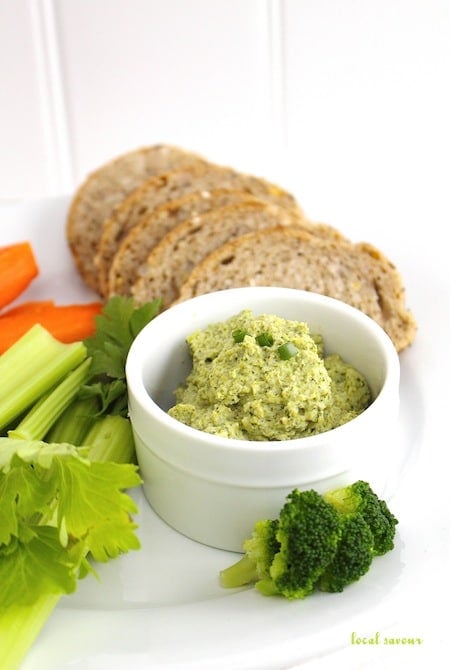 Lemon Broccoli Hummus | Local Savour
Bacon Blue Cheese Jalapeño Poppers | Foody Schmoody Blog
Crockpot Pumpkin Turkey Chili | Sweet and Spicy Monkey
Sweet Potatoes Curried Chips (Baked) | Tumeric n Spice
Crispy Herbed Chicken Wings | OCD Kitchen
Paprika Roasted Chickpeas | A Dash of Megnut
Chicken Meatballs with Garlic and Kale | A Calculated Whisk\
Blistered Shisito Peppers with Sriracha Mayo | Mary Makes Good