These gluten-free and vegan red, white and blue cookie cups are the perfect patriotic dessert. Sweet dairy-free buttercream and fresh berries top these delicious cookies to make such a fun and festive treat!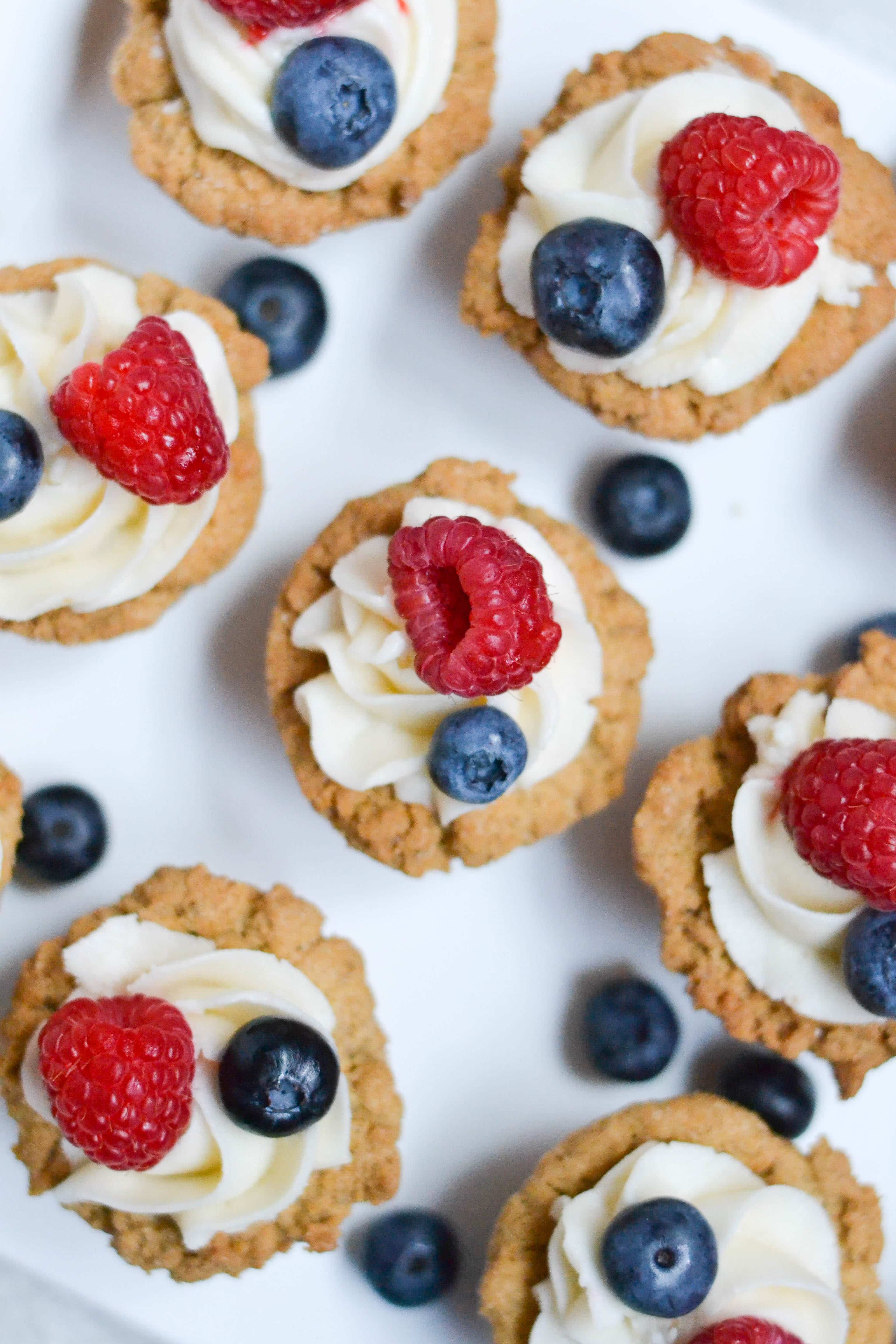 Happy 4th of July friends! I know what you're thinking… you wait until 4th of July to post a patriotic recipe? Umm… yes, yes I do. But these little gluten-free and vegan cookie cups were too good not to share that I couldn't help myself! And not only are they perfect for 4th of July, but they're great all summer long. You can switch up the berries or fruit on top of the cookies to fit any theme or color scheme you're going for. For these festive red, white and blue cookie cups, I decided to use blueberries and raspberries for my toppers. They provide a great burst of fresh fruit flavor on the top of the cookie cups and look adorable too! I made my cookie dough a little less sweet than I normally would knowing that I was topping it with sweet "butter"cream and fruit. I didn't want to go into sugar overload if you know what I mean! No one wants to see me on a sugar high.. I promise.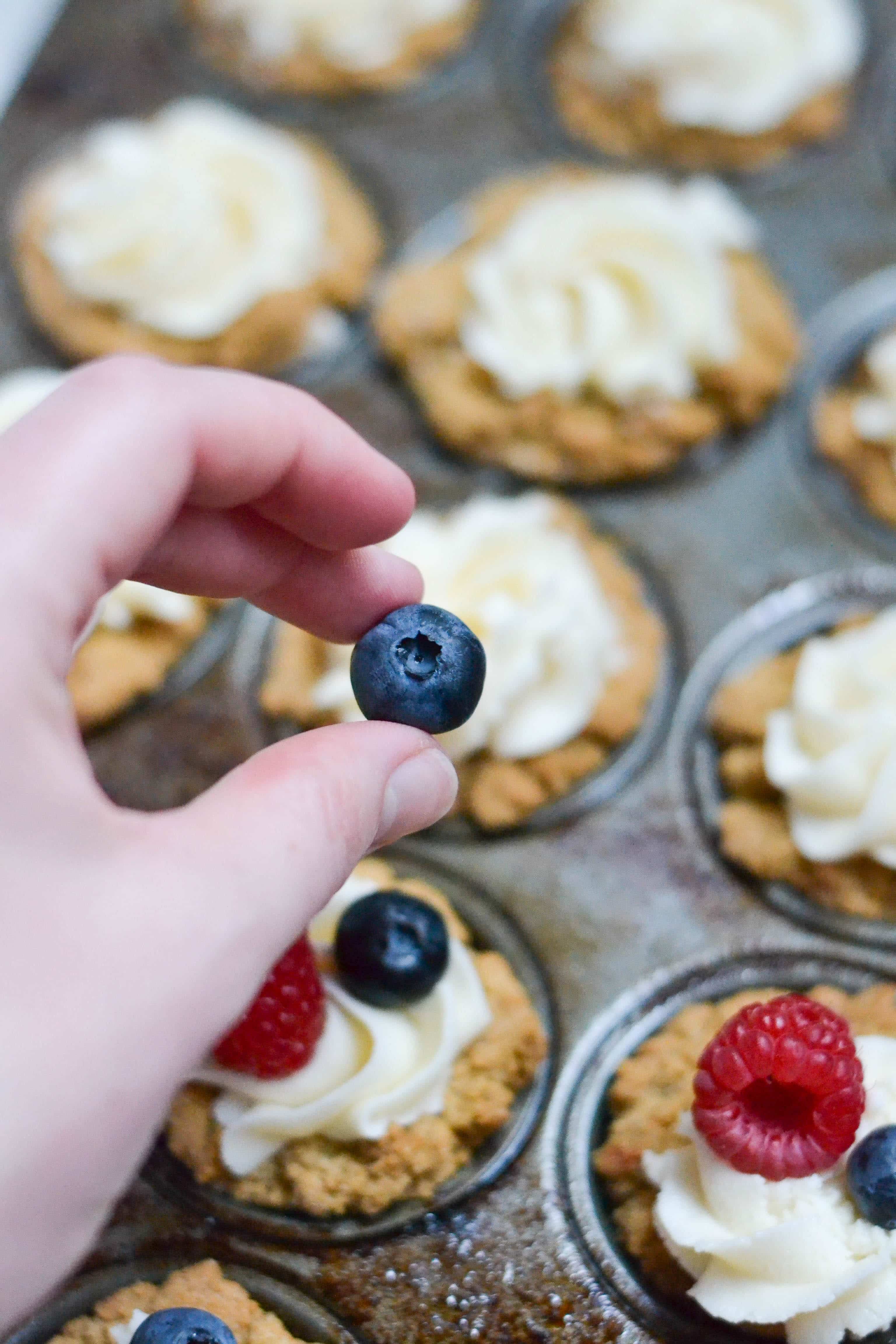 I also made this buttercream a little thicker so that it would hold its shape on the cookie cups and not immediately melt as soon as I brought them outside. The buttercream isn't really buttercream at all since there is no butter in it! Instead, I used Earth Balance vegan butter for this recipe to keep it dairy-free for myself. The recipe is of course also gluten-free using Bob's Red Mill 1-to-1 baking flour, but you can use whatever your favorite blend is. I also used a chia egg in this recipe (1 tablespoon chia seeds plus 3 tablespoons of water all stirred up and left to sit for a few minutes) to keep it vegan, but feel free to use a normal egg if you wish!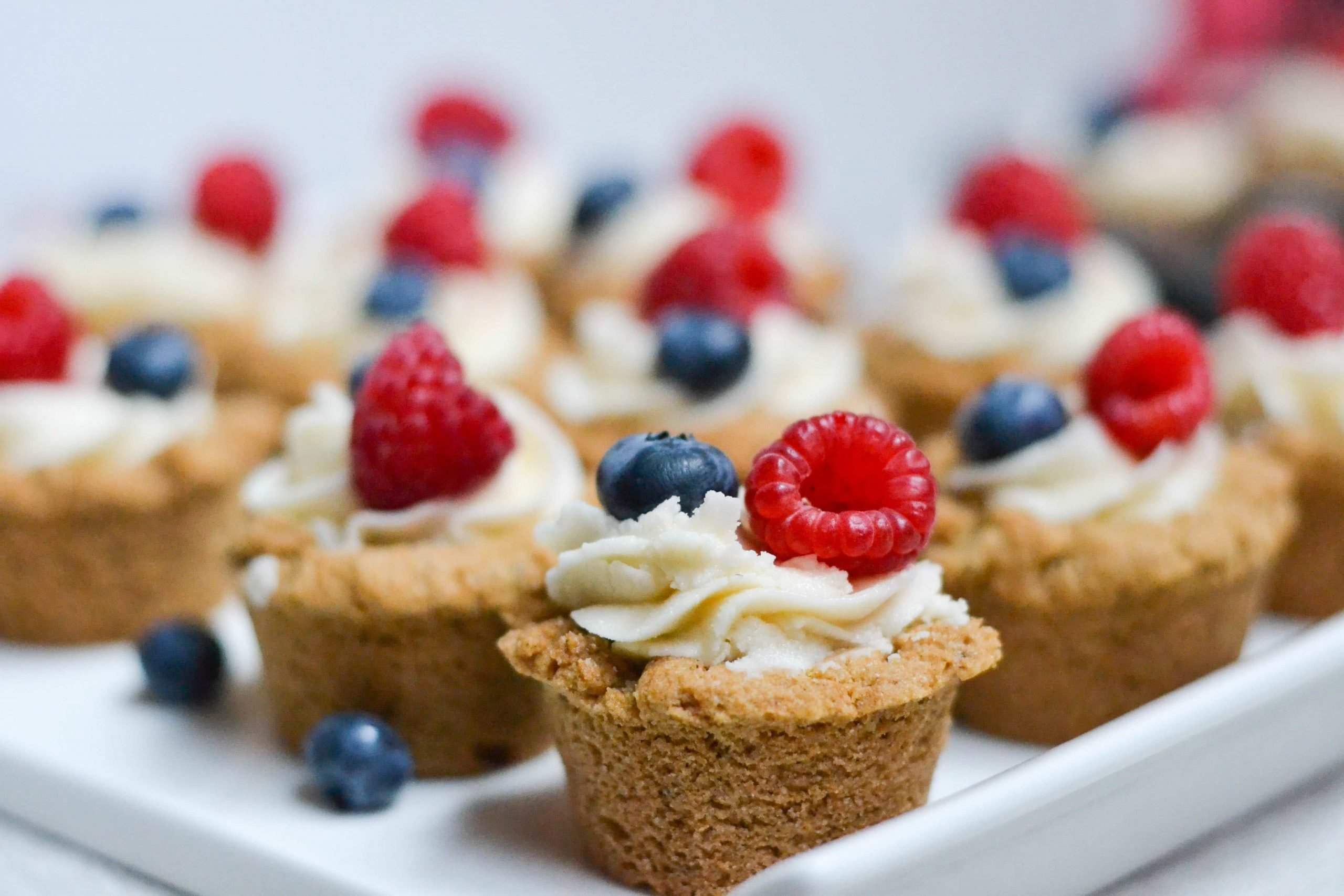 I made this recipe in a small muffin tin so I could get little bites for dessert, but you could also make this recipe in regular sized muffin tins, as well. So many options in this post! They really are a great little party dessert for this summer. They're very portable and no fork or knife is needed. No one wants to have to hold on to a plate, fork and knife while mingling at summer outings, do they? Not me! 

Vegan Red, White and Blue Cookie Cups
Prep time:
Cook time:
Total time:
Ingredients
For the Cookies:
8 tbsp butter (we used Earth Balance dairy-free butter)
⅔ cup brown sugar
⅓ cup granulated sugar
1 tbsp chia seeds + 3 tbsp water
2 tbsp pure vanilla extract
½ tsp salt
1 tsp baking powder
1 tsp baking soda
2¼ cups gluten-free all purpose flour
For the Buttercream:
6 tbsp butter
3 cups powdered sugar
1 tsp vanilla
1 tbsp dairy-free milk, if necessary
fresh blueberries, for topping
fresh raspberries, for topping
Instructions
Preheat oven to 350F. Grease 2 12-count (so 24 total) mini muffin tins and set aside.
In a small bowl, combine chia seeds and water. Stir to combine. Let sit for about 5 minutes, until it thickens and is gel-like. Set aside.
In a large bowl, cream together butter and sugars with a hand mixer until light and fluffy.
Add chia mixture and vanilla and stir to combine.
Then add salt, baking powder, baking soda, and gluten-free flour blend. Stir until dough forms.
Spoon dough into the muffin wells. With wet fingers, make a slight hole in the center of each muffin cup, pushing the dough to the sides of the muffin well.
Bake at 350F for 12-15 min, until golden brown and cooked through. Let cool completely.
In the meantime, to make the buttercream, cream the dairy-free butter in a stand mixer fitted with the paddle attachment. Add the vanilla. Then add the powdered sugar 1 cup at a time and let mix until the buttercream is smooth. If you buttercream is too thick, feel free to add a tablespoon of non-dairy milk to thin it out a little bit.
Once the cookie cups are cooled, pipe the buttercream onto each cookie cup. Top with one blueberry and one raspberry each. Serve immediately. Keep in an airtight container or in the refrigerator for best results.
Notes
**Use vegan sugars if you want this to be truly be vegan.
So, what do you plan on making these gluten-free and vegan cookie cups for? A birthday? baby shower? Maybe even tonight for 4th of July?
Tell me in the comments!