These vegan cranberry orange scones are fresh, light and PERFECT for brunch this weekend! Gluten-free, vegan and even a low sugar option, they are easy to make no matter what your dietary restrictions are. Try them with my easy orange glaze to kick them up a notch!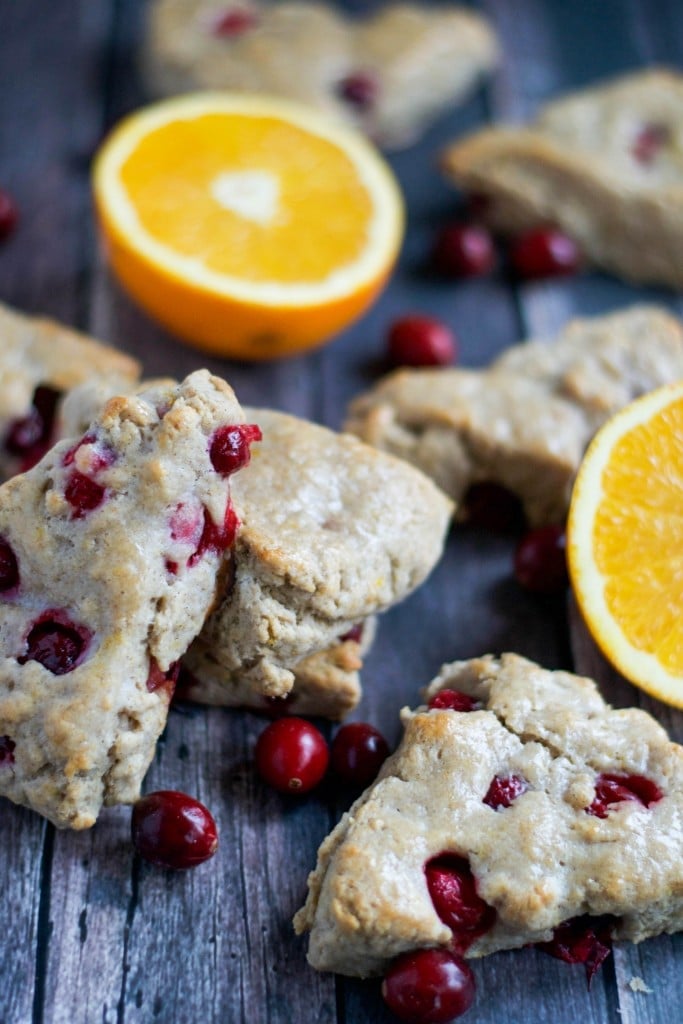 Every season I seem to have a new ingredient obsession. Summer was peach, Fall was apple, and Winter is definitely cranberry. As someone on a low sugar diet, I'm always looking for low sugar fruits to add into my recipes. Cranberries definitely fit the bill. They aren't very sweet, but instead pretty tart! I also love the color that they give to food! Did you see my cranberry beet smoothie? Because the color was GORGEOUS! It only seemed appropriate to carry my cranberry obsession into January with a vegan orange cranberry scone recipe! 
Orange and cranberry go together like peanut butter and jelly. Actually, I hated peanut butter and jelly as a kid, I ate peanut butter and sugar sandwiches instead. (Yup, I'm not kidding). Orange and cranberry go together like gluten-free Oreos and almond milk. Long story short, orange and cranberry pair SO well together. These orange cranberry scones are flavored with orange zest and orange juice for the ULTIMATE orange flavor and then they're also topped with a light and sweet orange glaze. Every bite comes with a tart and juicy cranberry that is balanced by the orange flavor.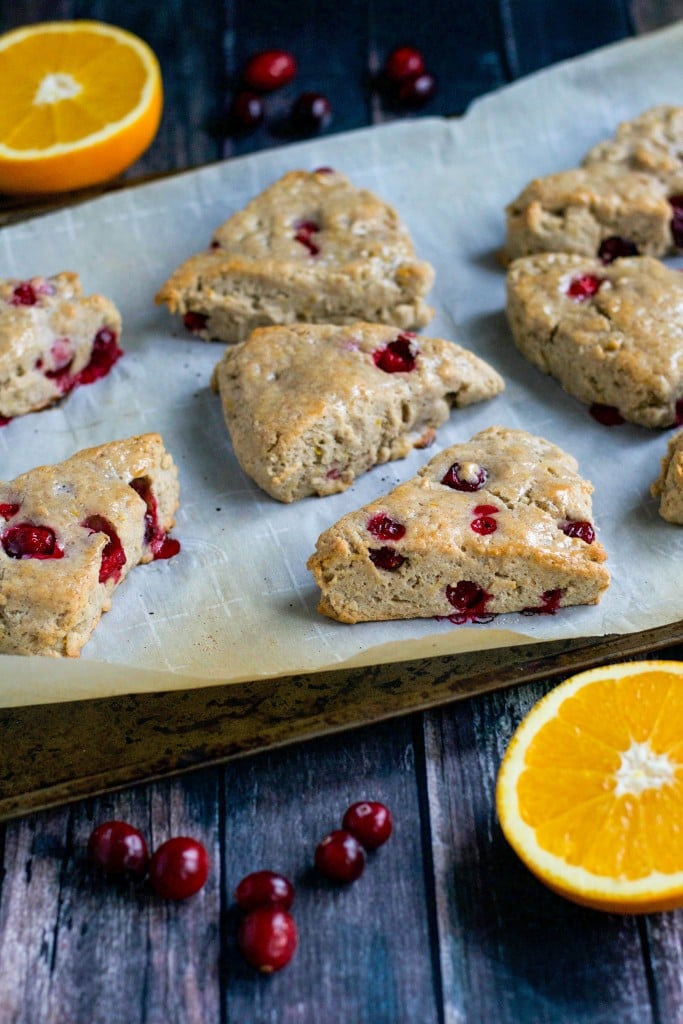 For this recipe, I used a sweetened called Just Like Sugar. If you haven't heard of it, it's made from chicory root, calcium and orange peel for an all natural sugar that is low glycemic. My nutritionist told me about it and I've used it a lot in my personal baking. I don't use it much for recipes on my blog just because I know it's not easy to obtain and a little on the expensive side. I personally love baking with it so I can have some dessert every once in awhile. If you don't have Just Like Sugar, you can also use granulated sugar in this recipe! I've made them both ways!
I hope you love this vegan orange cranberry scone as much as I did! It's perfectly moist and delicious with a little vegan butter or even plain!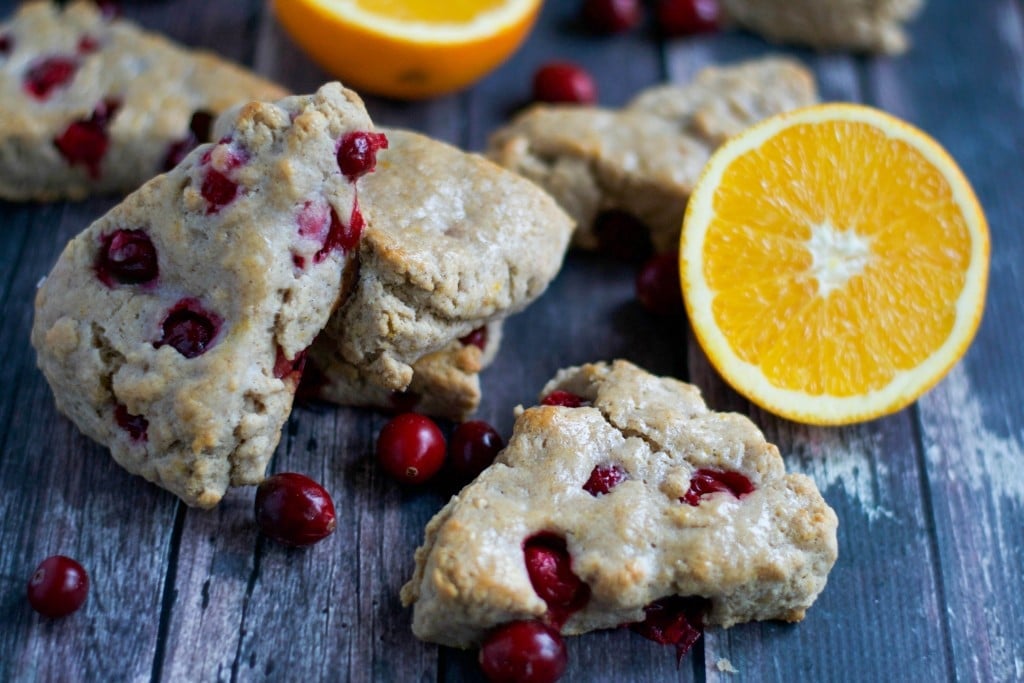 This post may contain affiliate links. If you use this link, I may receive a small commission, but the price of the product will stay the same for you. I only provide affiliate links for products I actually love using and think you'll love too! Using affiliate links helps me run my blog and cover some of my expenses. Thank you!


Vegan Cranberry Orange Scones
Prep time:
Cook time:
Total time:
Ingredients
2 cups gluten-free all-purpose flour
1 tablespoon baking powder
½ teaspoon salt
1 teaspoon cinnamon
⅓ cup Just Like Sugar Table Top or granulated sugar
⅓ cup coconut oil, cold and solid
1 teaspoon vanilla
1 tablespoon orange zest (zest the orange before juicing it)
⅛-1/4 cup fresh orange juice
1 cup fresh cranberries
For The Glaze:
2 tablespoons orange juice
1 tablespoon maple syrup (or honey or granulated sugar)
1 tablespoon coconut oil
1 tsp orange zest
*alternative glaze:
1 tablespoons orange juice
2 tablespoons powdered sugar
1 teaspoon orange zest
Instructions
Preheat oven to 400F.
Combine flour, baking powder, salt, cinnamon, orange zest and sugar in a large bowl.
Add coconut oil and cut in until it's the size of peas. You can also do this in a food processor.
Then, add in the vanilla and orange juice. Start with ⅛ cup of orange juice and keep adding more until the mixture combines into a dough.
Carefully stir in the fresh cranberries.
Pat the dough into a circle (about 8 inch in diameter). Cut it into 8 wedges.
Bake at 400F for 12-17 minutes, until they are a light golden brown.
Make the glaze while the scones are in the oven. In a small sauce pan combine the orange juice, maple syrup, orange zest and coconut oil. Bring to a boil.
Continue cooking for about 3 minutes. Let cool.
If you are making the glaze with the powdered sugar, combine all ingredients in a small bowl and whisk until it resembles a glaze.
Glaze the scones as soon as they come out of the oven and let cool completely.