Christmas is literally three days away, can you believe that? Where has time gone? I feel like it was just yesterday that I was eating turkey around the table with my family! This time of year is just so incredibly busy that I feel like I haven't even gotten to make all the fun cookies and holiday recipes that I wanted to. With only three days left until the BIG day, that leaves me with only easy and delicious desserts for Christmas, which I am totally okay with!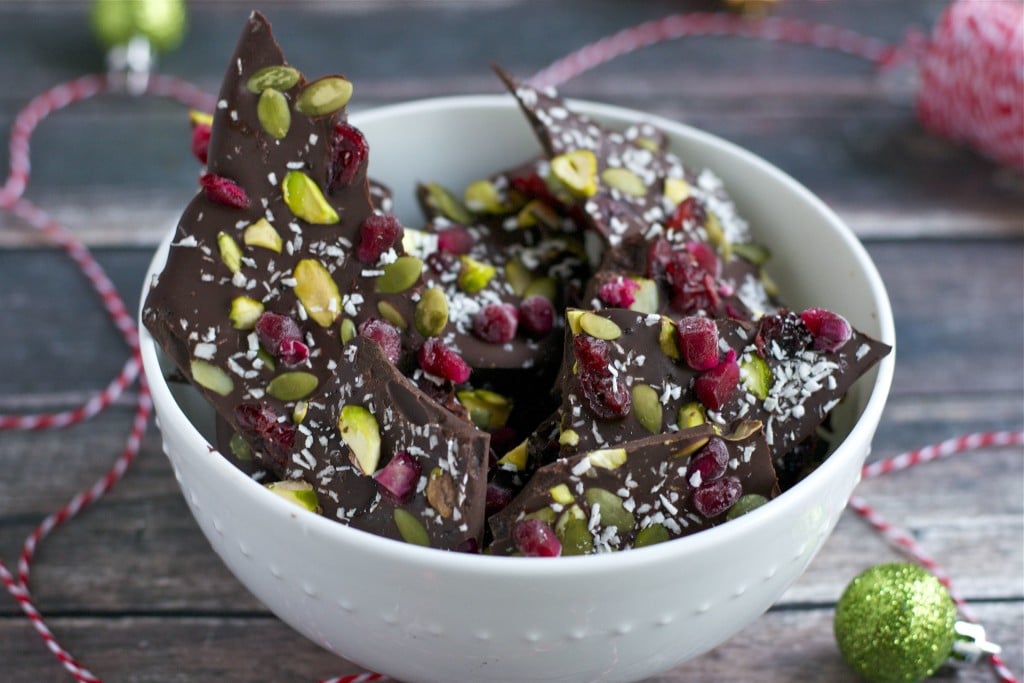 I love creating recipes that are simple, yet super tasty and impressive for parties. The ones that aren't super stressful and even if you are hosting you could make for your guests. Ones that ALSO make amazing edible gifts when placed in a cookie tin and wrapped up with some twine or ribbon. Those are the recipes I love! My chocolate cookie dough bites definitely fit the bill and this pomegranate and pistachio chocolate bark does too! With it's red, green, and white color theme, this chocolate bark is ready to go for Christmas! Full of fresh pistachios, dried cranberries, pistachios and pumpkin seeds, there are so many textures in this chocolate bark that make it so tasty! 
If you haven't noticed, I like my chocolate bark to have a lot of "stuff" on it. The more toppings the better! The great thing about chocolate bark is you can use whatever you have in your pantry as toppings. I also currently have an almond, dried apricot, cranberry, cashew, coconut version in my freezer right now that is to die for! But my pomegranate and pistachio version might be my favorite because of it's festive colors! Also, if you haven't tried coconut on chocolate bark.. now is the time! It is seriously so so so good! Even if you say you "don't like the texture" of coconut, try it! You'll be pleasantly surprised! 
Make this dessert for Christmas and I guarantee you will not be disappointed. Chocolate bark makes the perfect quick and easy dessert or a stunning edible gift for friends and family. Change it up with whatever toppings you already have in your pantry or try this recipe for my pomegranate and pistachio chocolate bark for a festive treat!
Pomegranate and Pistachio Chocolate Bark
Prep time:
Cook time:
Total time:
Ingredients
6 oz dark chocolate (I used a gluten-free, vegan chocolate that was 75% cacao)
½ cup fresh pomegranate seeds
¼ cup dried cranberries (I used a low sugar variety)
¼ cup pumpkin seeds
¼ cup pistachios, shelled and chopped roughly
1 tbsp unsweetened shredded coconut
½ tsp sea salt
Instructions
In a microwave safe bowl, melt dark chocolate at 30 second increments, stirring in between to ensure the chocolate does not overheat, as it will burn and seize up.
Line a baking sheet with parchment paper. Pour the melted chocolate onto the parchment paper and use a spatula to spread the chocolate out into an even layer, about ¼ inch thick.
Sprinkle the pomegranate seeds, dried cranberries, pumpkin seeds, pistachios, coconut and sea salt over the chocolate.
Chill for about 30 minutes to an hour, until its set. Break into pieces and serve. Store in an air tight container.
I personally store mine in the freezer after a day so that I can eat it whenever I want, though you may get a little bit of condensation on the chocolate by doing that. Still delicious though!