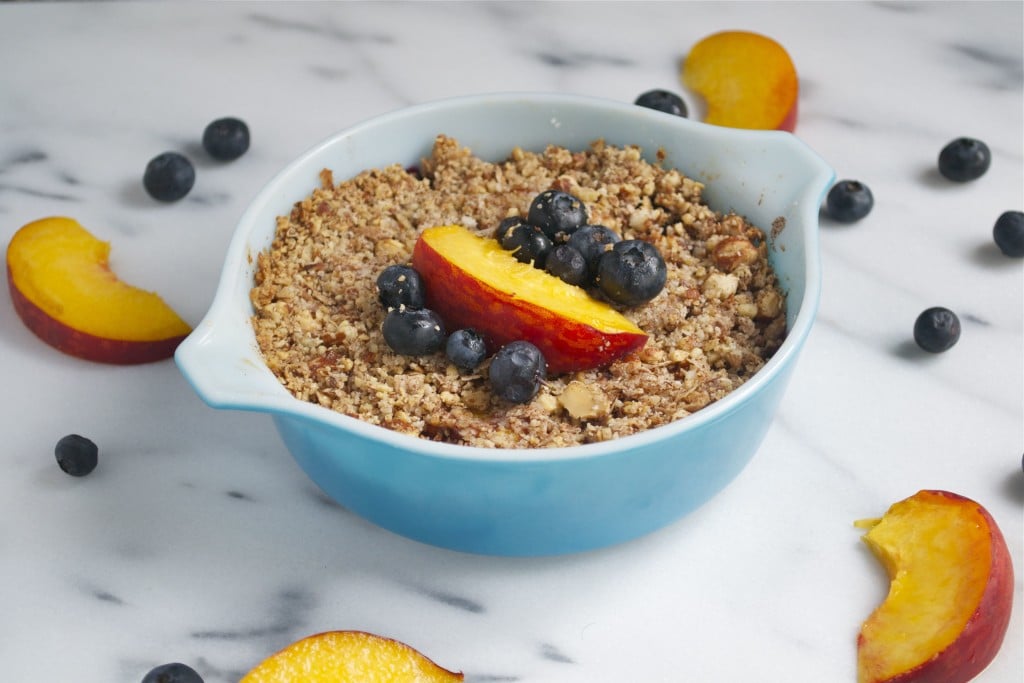 Oh, summer. How do I love thee? Let me count the ways…
I love thee peaches.
I love thee blueberries.
I love thee awesome fruit crisps.
… Oh and I love thee avocados. Because I feel that it just had to be said.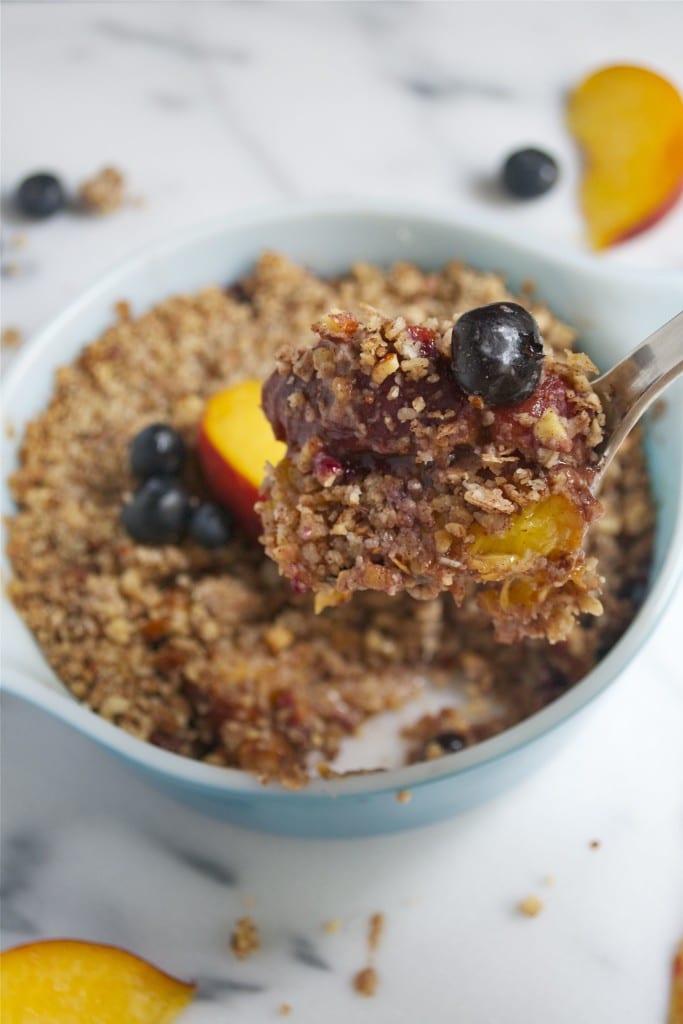 I just got the go ahead from my nutritionist that I can start eating peaches again. And I could not be more THRILLED! Finally, some juicy, summertime fruit in my belly! There's something about biting into a ripe, fresh peach that is bursting with juices and flavor that just makes me so happy. I found some great peaches at the store the other day that I just knew needed to be turned into a pie or cobbler or crisp or SOMETHING that would just highlight how gorgeous these pieces of fruit were. I also lately can't get enough of blueberries (and they pair so beautifully with peaches) so I knew blueberries were definitely going to make an appearance in this show.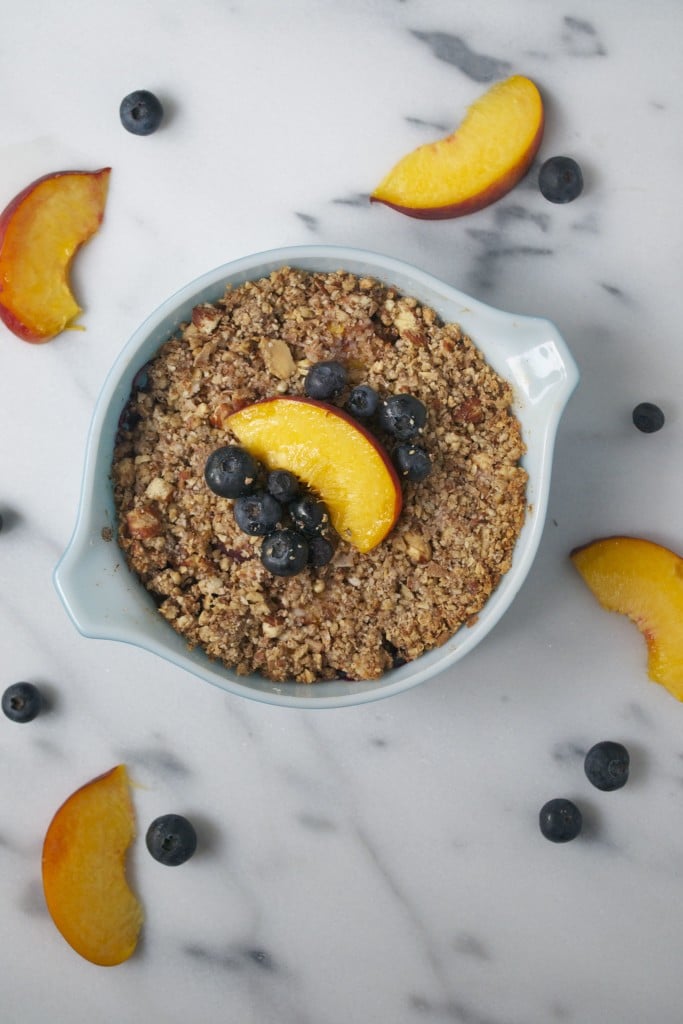 This peach blueberry crisp did not disappoint. In fact it was quite amazing if you ask me! The contrast between the sweet and luscious filling with the crunchy topping is perfect. There is almost no added sugar to this crisp because I personally think that the natural sugars of the fruit are just enough, but I did add a smidgen of honey to the nut topping to give it that bit of sweetness. Feel free to up the amount of honey to your liking.. Taste as you go! This recipe is also gluten-free, dairy-free, vegan, refined sugar-free, and grain-free. Oh and super delicious!!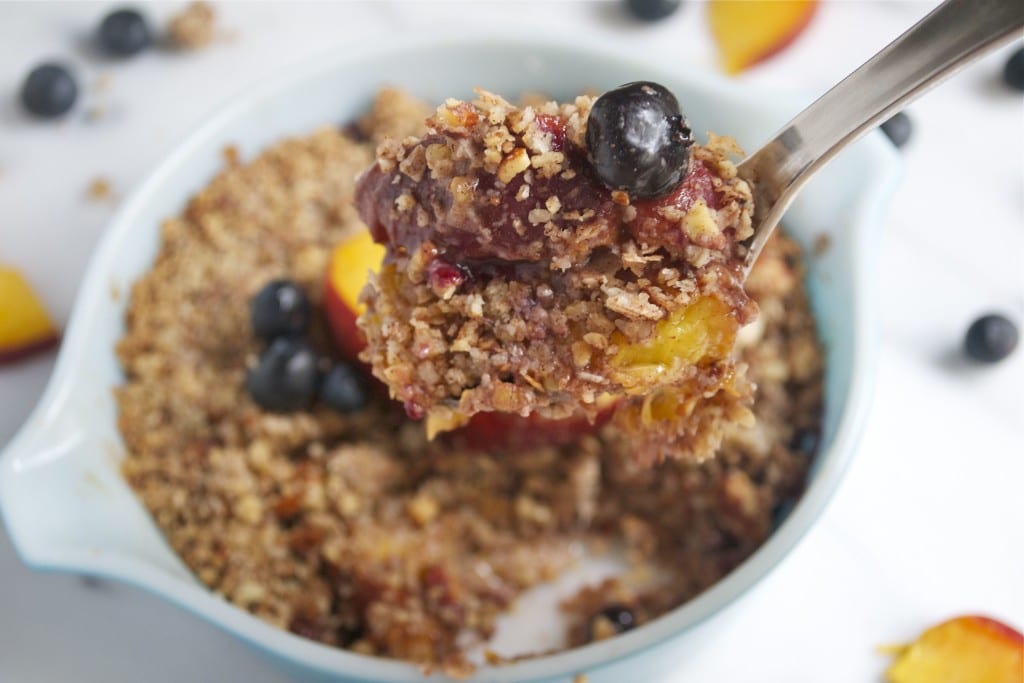 Peach Blueberry Crisp for Two
Prep time:
Cook time:
Total time:
Ingredients
Filling
1 peach, pitted and cut into slim wedges
¼ cup blueberries
¼ cup water
½ tsp cornstarch (or tapioca flour)
½ tsp cinnamon
Topping
¼ cup raw or roasted almonds
¼ cup walnuts
⅛ cup coconut flakes, unsweetened
½ tsp cinnamon
¼ tsp nutmeg
¼ tsp salt
2 tbsp coconut butter, slightly softened
½ tsp honey (use maple syrup for vegan), or more to taste
Instructions
Preheat oven to 350F.
In a small bowl, mix together peaches, blueberries, cinnamon, water and cornstarch. Pour into a ½ quart round oven safe dish or two individual ramekins and set aside.
In a food processor, combine almonds, walnuts, coconut flakes, cinnamon, nutmeg and salt. Pulse 5-6 times until nuts are in small pieces. A few larger pieces can remain.
Pour nut mixture into a small/medium bowl. Stir in coconut butter and with your hands try to work it into the nut mixture, pressing it to form some clumps. Spoon nut topping over the filling.
Cover baking dish with aluminum foil and bake at 350F for 18-22 minutes, until the topping is lightly browned and the filling is warm.
Serve warm out of the oven.
Notes
*This recipe makes enough for two people to share, but you could always double or triple the recipe to bake it for a larger amount of people.

*You can also bake this recipe in individual ramekins.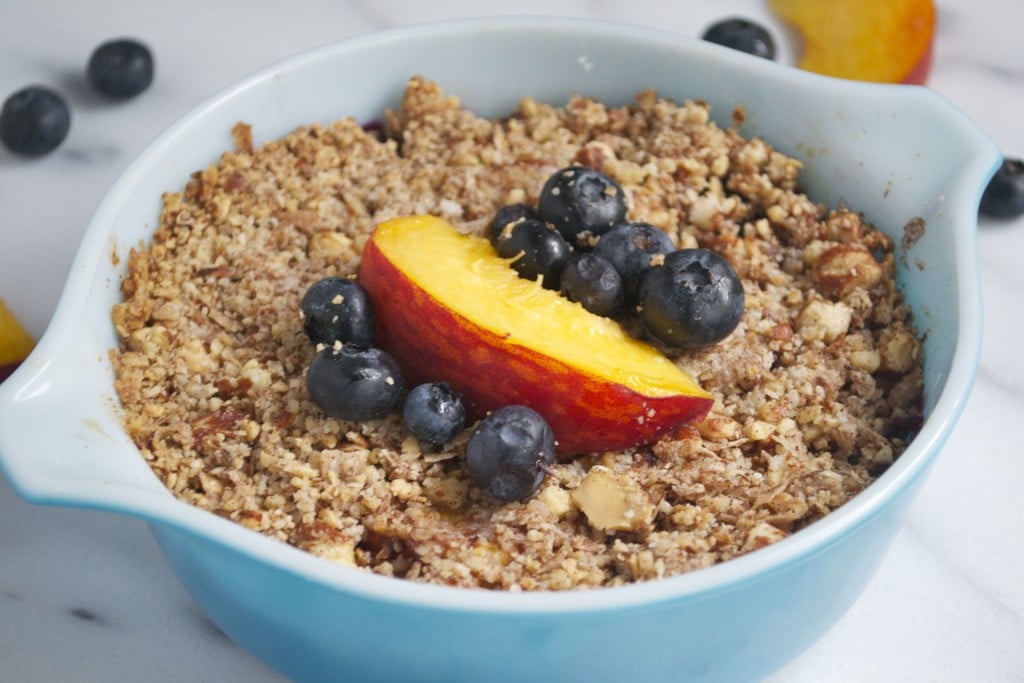 This recipe was shared on Allergy Free Wednesdays.