You'll love how easy these honey mustard baked chicken wings are to make! They're baked (not fried!), gluten-free and oh so crispy! Look no further for the perfect game day appetizer – though you might not want to share!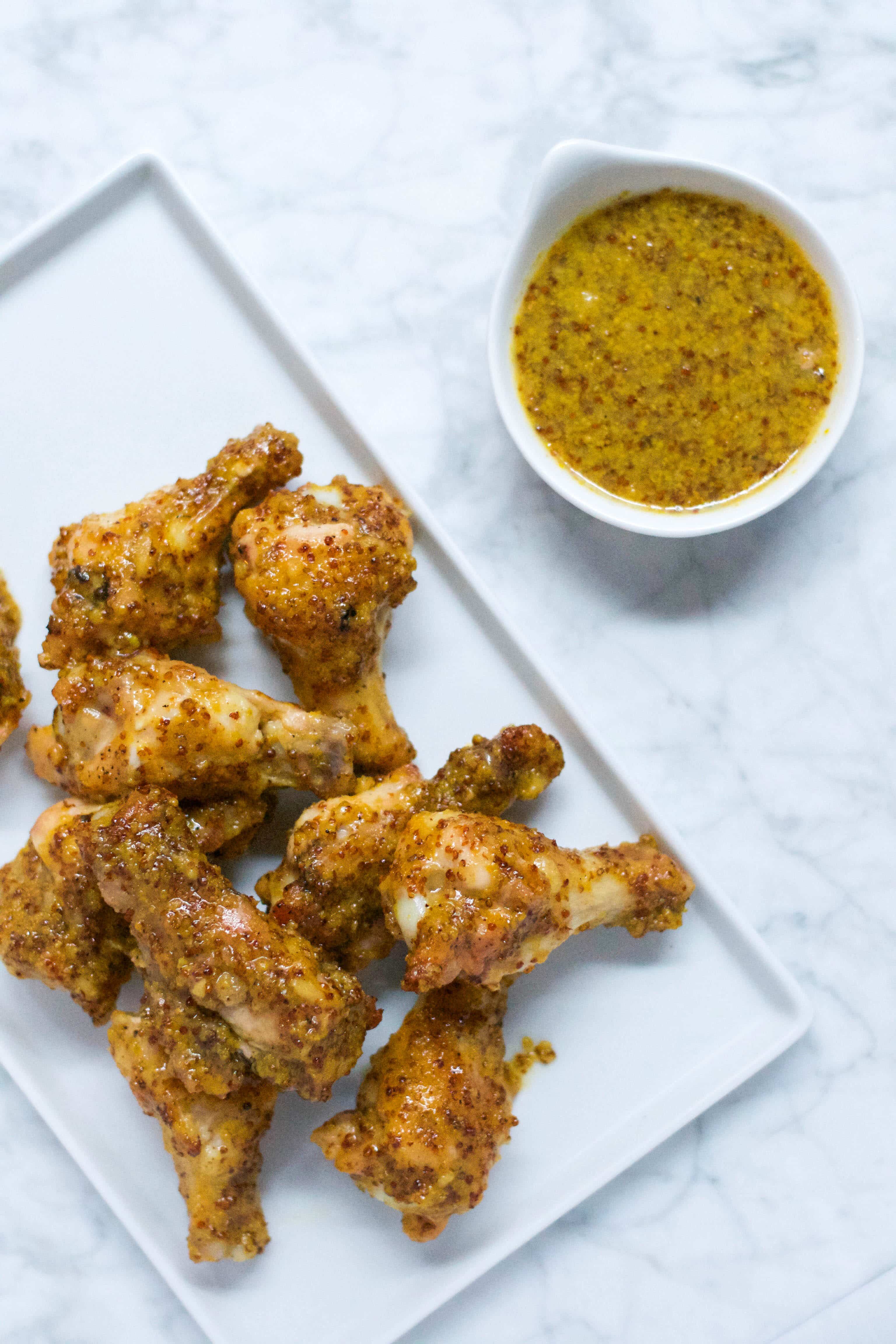 Happy Celiac Awareness day friends! I have to admit, this day kind of escaped me until I randomly saw this morning that I had these baked onion rings (coated in Lay's potato chips to make them gluten-free!) two years ago for the occasion. This year, I'm sharing something that is pretty much naturally gluten-free so while not as fun… it's just as delicious.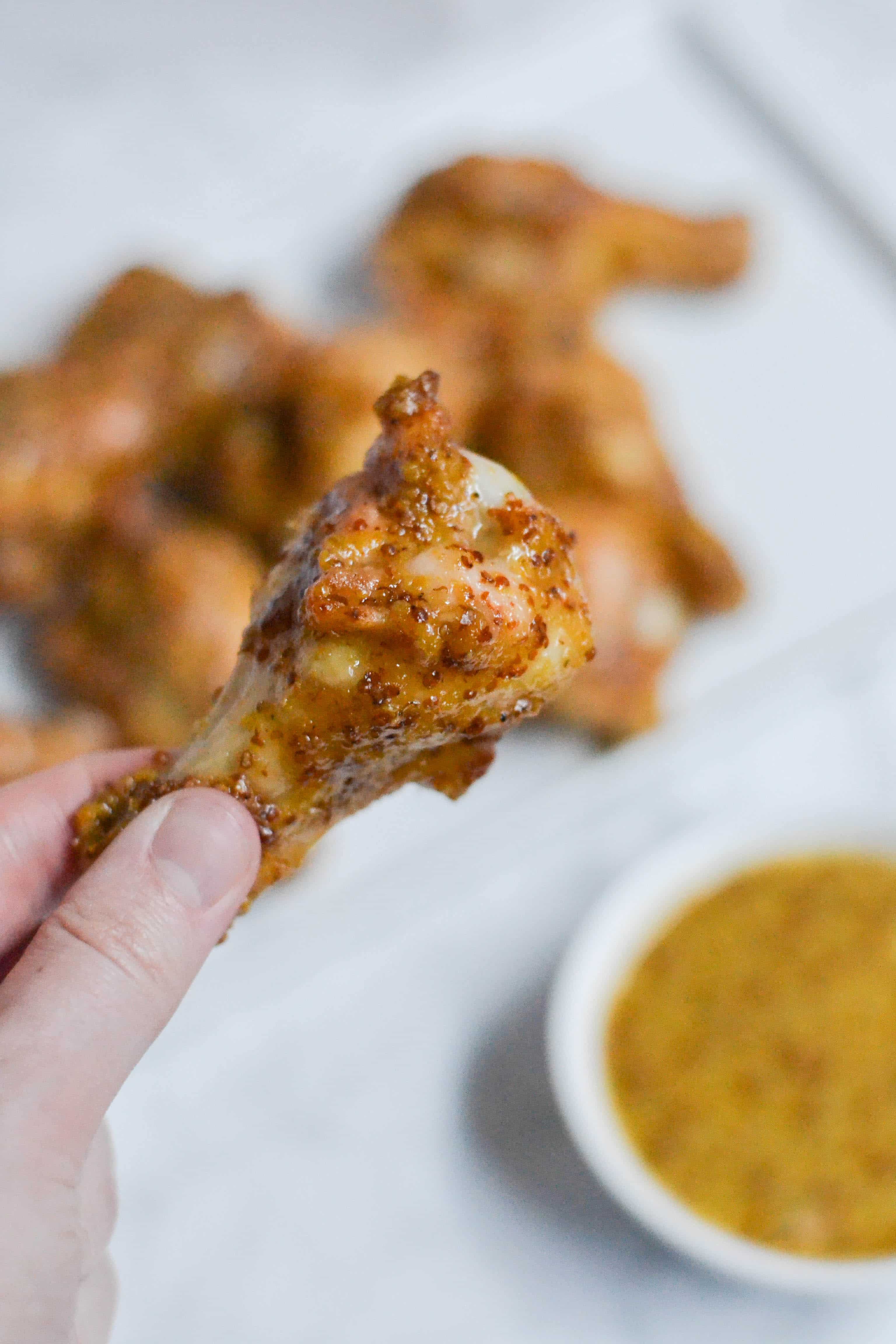 Today I'm sharing with you my honey mustard baked chicken wings recipe! I'm a HUGE fan of chicken wings if you haven't noticed already. I mean we have these teriyaki chicken wings, peanut butter chicken wings (my fave!), and these mango habanero chicken wings… can't stop, won't stop! What's better than gluten-free chicken wings? Nothing I tell ya!
I have a slight obsession with honey mustard so I'm surprised I haven't shared these honey mustard baked chicken wings with you all sooner to be honest. As a kid, I literally HATED ketchup and still do, so ketchup companies.. you know whose inbox to leave alone now, okay? But mustard, especially honey mustard, was always my go-to. As a dip for fries, on cheeseburgers, on a brat… and now on these chicken wings!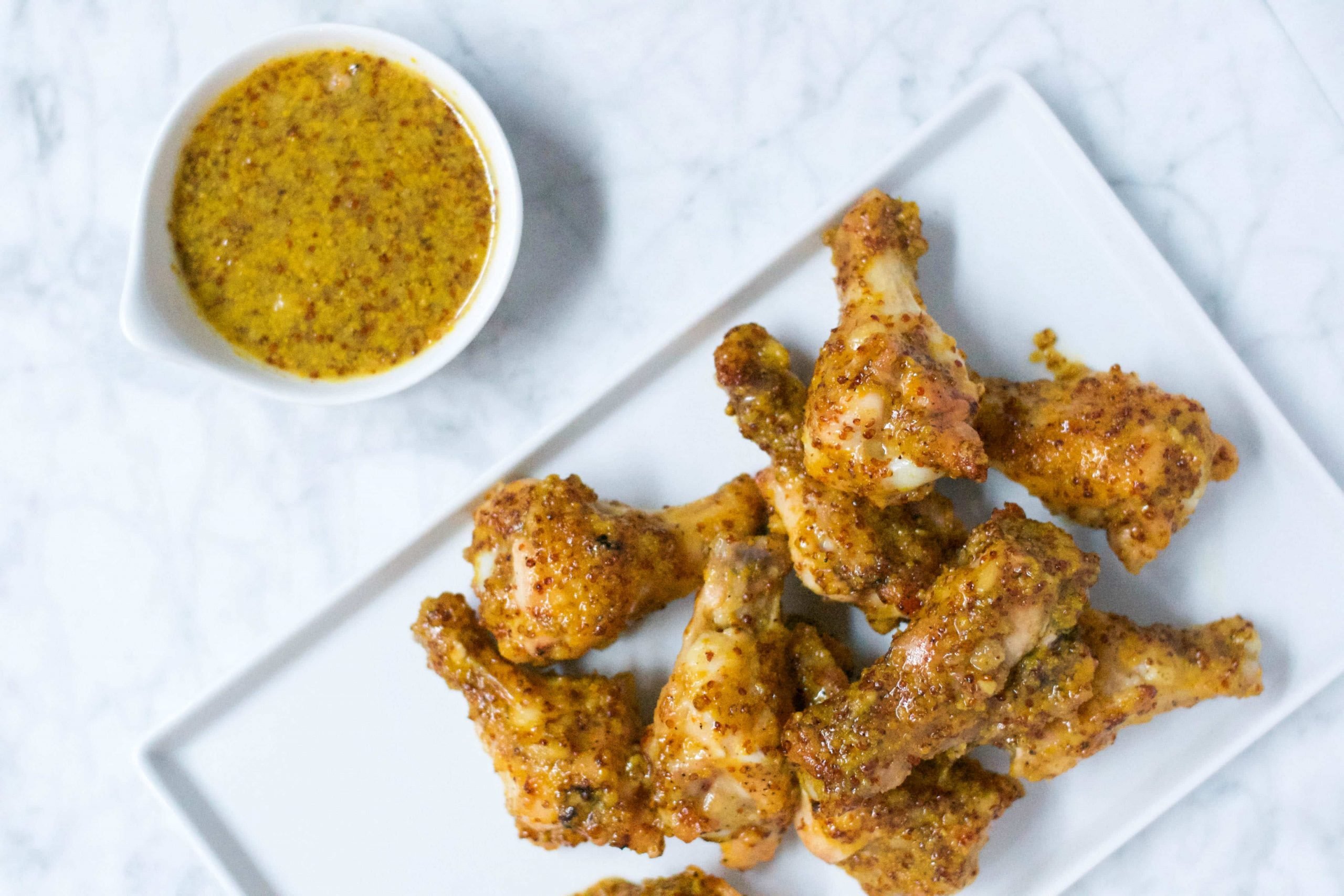 Baked chicken wings are crazy easy to make and the skin always comes out perfectly crispy. They're gluten-free (obviously) and baked in the oven rather than frying them in oil. Still, you get that nice really crunch with my baking method which I absolutely love! I tend to use chicken wing drummettes but feel free to use wings too! You may just need to adjust the baking time a little so the wings don't dry out. Either way, you'll have a perfect appetizer or snack! 
Honey Mustard Baked Chicken Wings
Prep time:
Cook time:
Total time:
Ingredients
1.5 lbs chicken wing drummettes (10 drummettes)
1 tbsp oil (olive, avocado, canola all work)
¼ tsp salt
¼ tsp ground black pepper
½ cup stone ground mustard
¼ cup honey
1 clove garlic, minced
½ tbsp apple cider vinegar
pinch of salt
Instructions
Preheat oven to 400F. Line a baking sheet with foil. Toss wings in oil and place on the baking sheet. Sprinkle with salt and pepper. Bake for 30-35 minutes, flipping half way through.
In the meantime, make sauce. In a small bowl, whisk together stone ground mustard, honey, garic, apple cider vinegar, and a pinch of salt. Set aside until wings are ready.
Once wings have finished cooking through in the oven, turn the oven to broil. Broil the wings for 5-7 minutes, watching carefully, until they are crispy.
Remove from the oven, add wings to a large bowl and pour honey mustard sauce over the wings. Toss until wings are completed covered.
Serve immediately.