This honey glazed salmon with avocado mango salsa is so easy to make you'll have dinner on the table in no time! You'll love the heat from the chili powder as well as the touch of sweetness from the honey glaze. If you're looking for an easy gluten-free and dairy-free meal, it's here!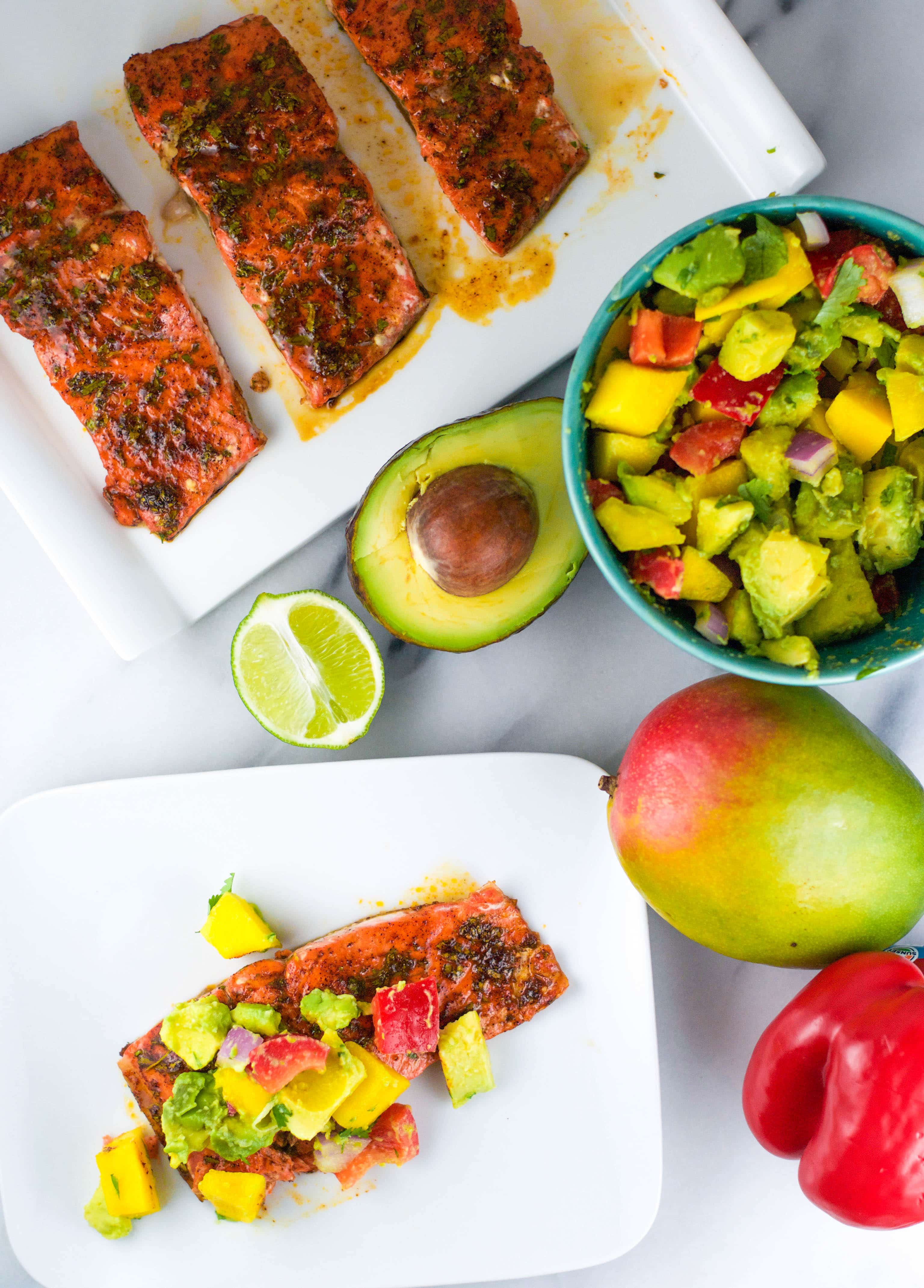 It's been awhile since I've shared recipes with you all! Life has gotten a little crazy over here. As most of you know, I'm an accountant by day, so I've been in my busy season the past month or so. And in bigger (and fun!) news, we bought our first home!
We purchased a condo in the Bucktown neighborhood of Chicago in late January and we were all moved in by the end of February so it was quite the whirlwind. And to top it off, I got the nastiest cold on our closing date and was sick for our entire move. We are completely in love with our new place and I can't wait to share lots of photos of foods from the ample light we now have streaming through our condo!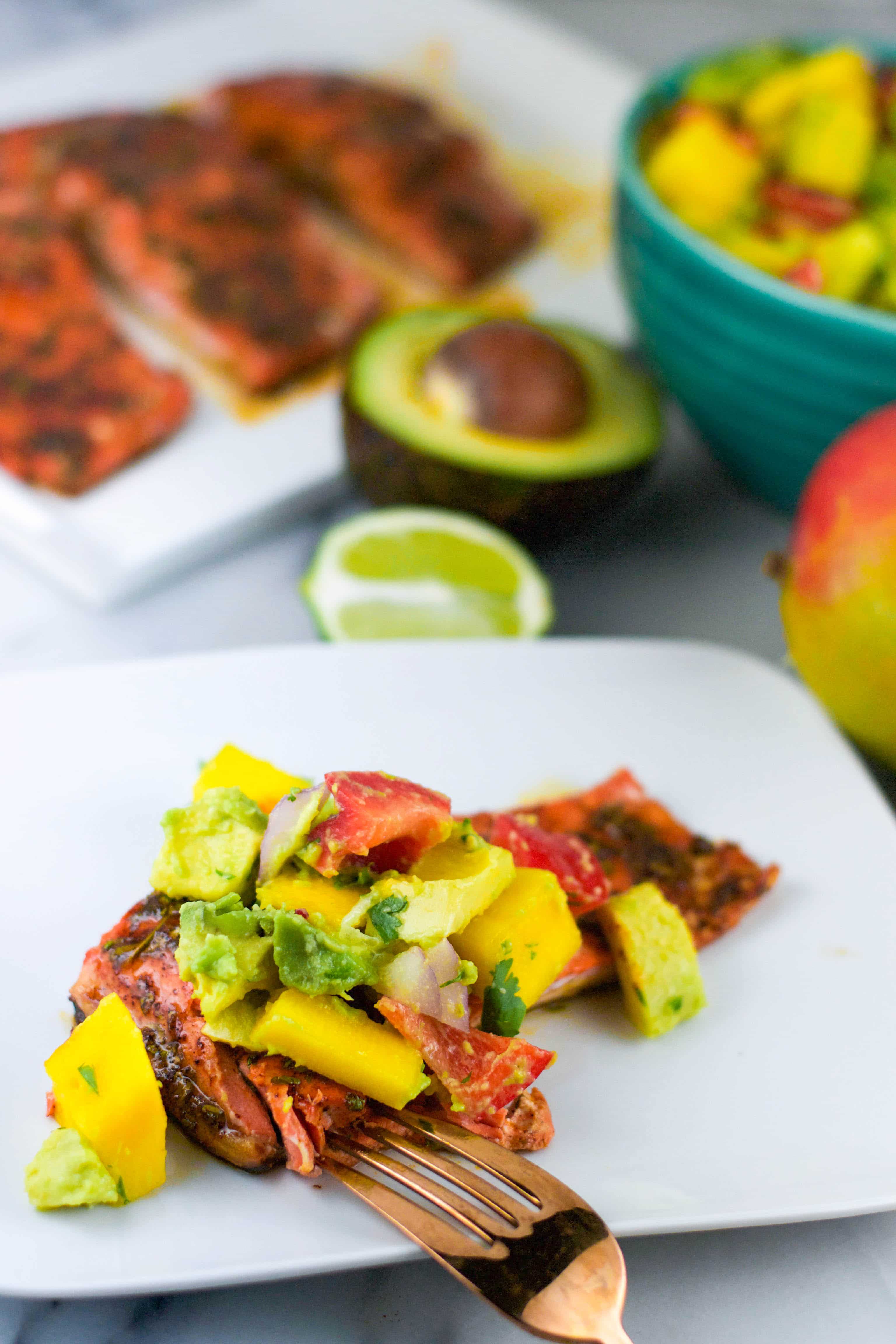 Needless to say, February was completely nuts and I'm glad to have things slow down a bit so I can share some of the recipes I've been creating with you. I'm going to start you off with this delicious honey glazed salmon with avocado mango salsa. It's super quick to prepare, which makes it great for an easy week night meal.
My favorite part of this recipe (besides the fact that it's gluten-free and dairy-free, obviously) is the glaze. It's mainly a combination of honey, chili powder, fresh lime juice and cilantro, which gives it this super delicious sweet, spicy and zesty taste. You know me, I don't like a lot of heat in my food because I'm a wimp, so it only has just a wee bit of a kick. You can always up the heat by adding a pinch of cayenne to the glaze, too.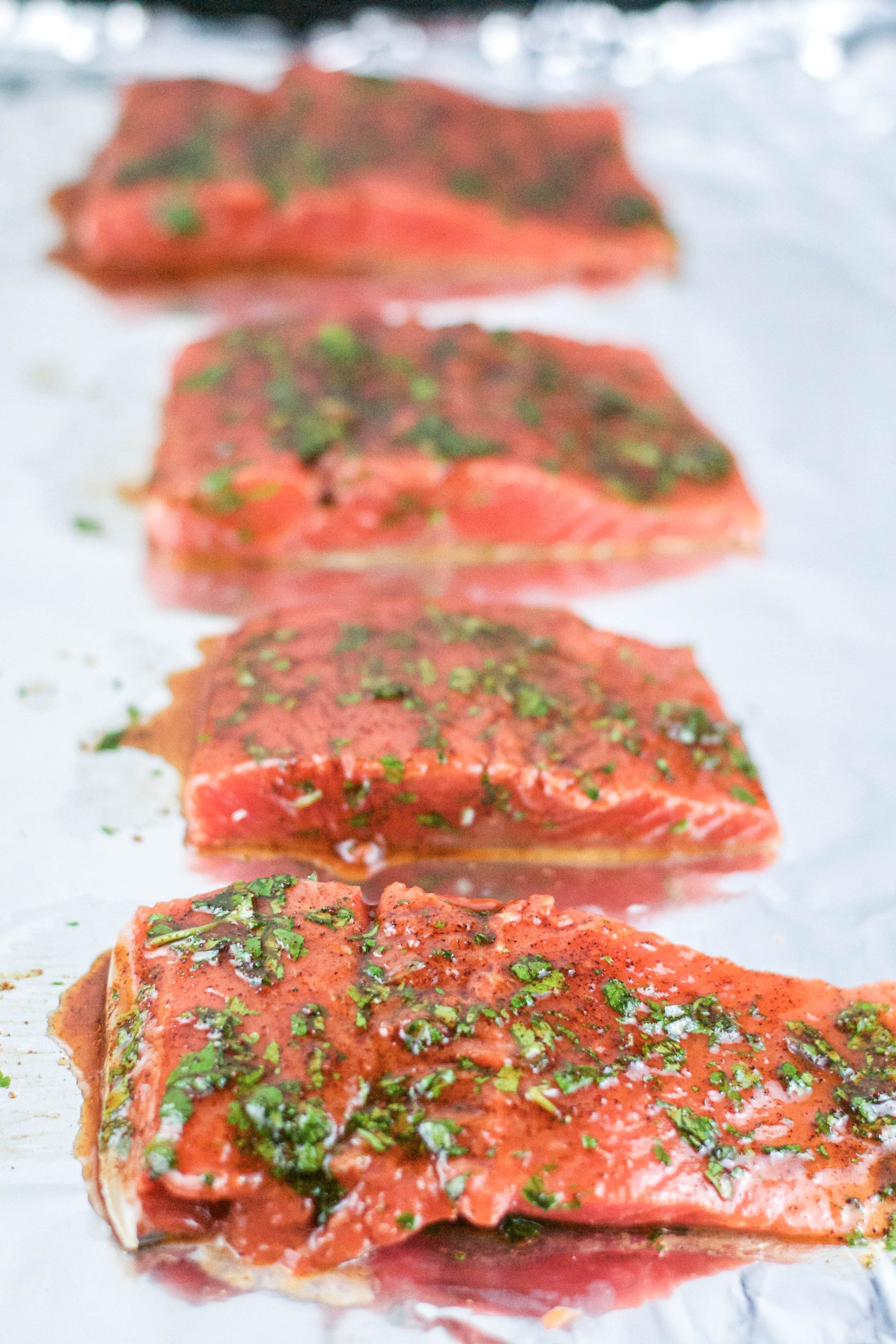 You can eat the salmon as is with just the honey chili powder glaze, but honestly why stop there? The avocado mango salsa is so tasty. Something about mango and avocado together just makes me very happy (see here). It really rounds out the flavor from the glaze which is why it's a great addition. And any leftovers I have of that salsa just goes straight from the spoon into my mouth. I have no shame. 
Once you try this recipe, you'll want to make this honey glazed salmon with avocado mango every night.. trust me!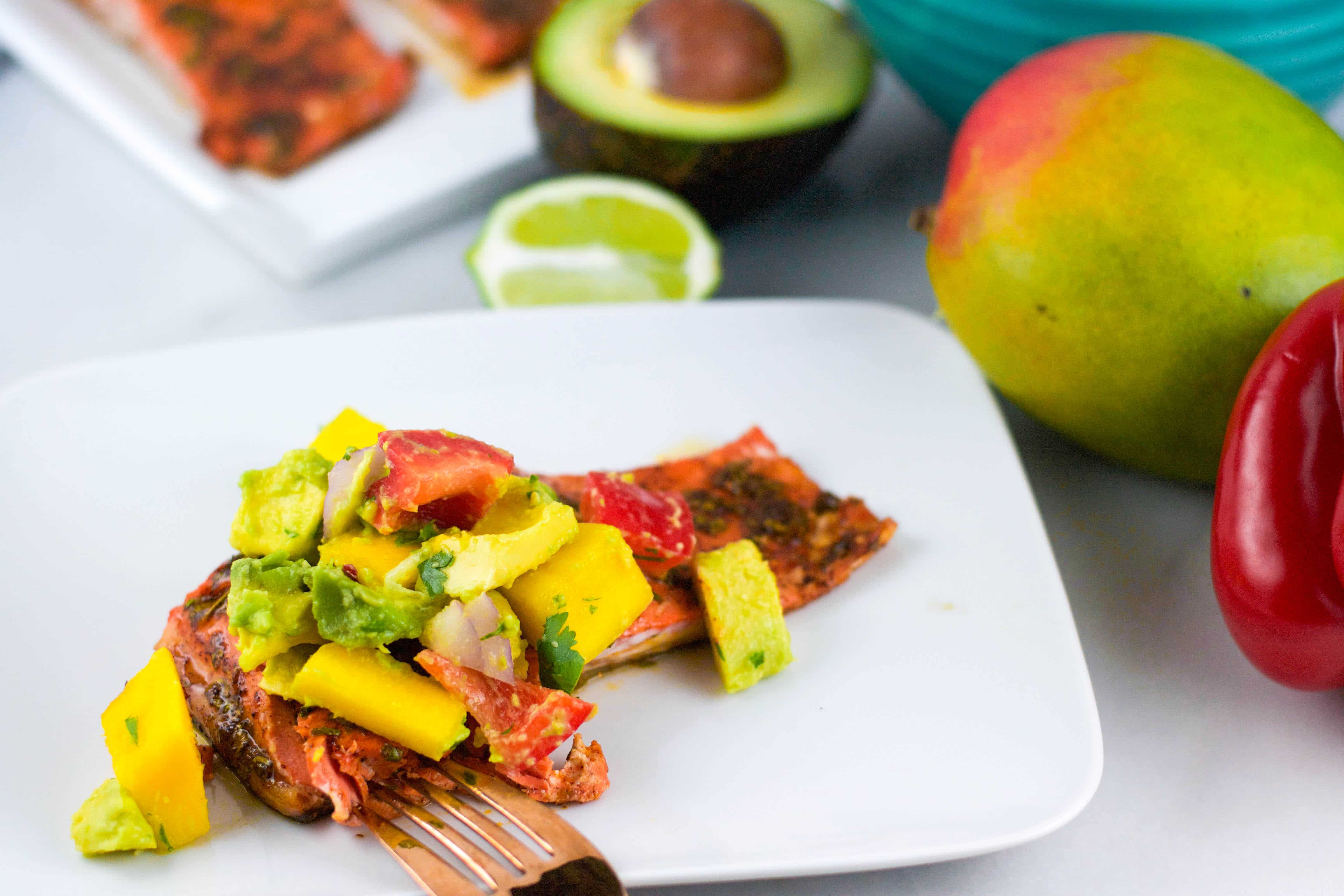 Honey Glazed Salmon with Avocado Mango Salsa
Prep time:
Cook time:
Total time:
Ingredients
For the Salmon:
4 (4-6 oz) salmon fillets (I like wild Alaskan salmon)
1 tbsp honey
1 tsp chili powder
2 tbsp lime juice
1 tbsp oil ( I use avocado oil, though olive oil works here too)
2 tbsp chopped fresh cilantro
½ tsp salt
For the Salsa:
1 avocado, peeled, pitted and diced
1 mango, peeled and diced
¼ cup red onion, small dice
¼ cup bell pepper, diced
1 tbsp lime juice
¼ tsp salt
2 tbsp fresh cilantro, chopped
Instructions
Preheat oven to 425F. Line a baking sheet with aluminum foil, spray with non-stick cooking spray, and set aside.
To prepare the mango avocado salsa, combine the diced mango, avocado, bell pepper, red onion, lime juice, salt and cilantro. Stir to combine. Place in the refrigerator until ready to use.
In a small bowl, whisk together the honey, chili powder, lime juice, oil, cilantro and salt until combined.
Place salmon, skin side down, on the baking sheet covered with aluminum foil. Spoon or brush the honey glaze on top of the salmon.
Bake at 425F for 10-12 minutes, until salmon is cooked through and easily flaked with a fork.
Top with mango avocado salsa and serve.