These gluten-free vegan sparkling water waffles are so easy to make with a few pantry staples. If you love La Croix as much as I do then this recipe is definitely for you! Whether you can't eat dairy and eggs or you are just low on a few ingredients, you'll love these waffles!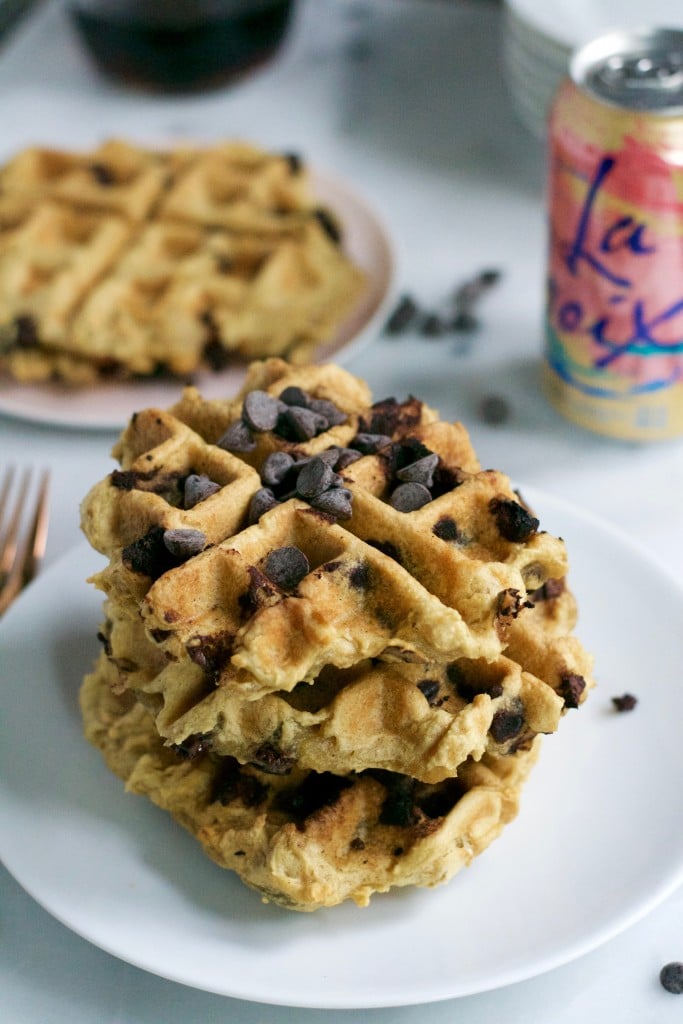 Do you all love La Croix as much as I do? How about waffles? Good. Because that's what we're making today! Gluten-free vegan sparkling water waffles using my favorite sparkling water, La Croix. This post is probably going to sound like a huge giant sponsored advertisement for La Croix. It's not. (Although.. La Croix, if you're there, feel free to hit a girl up) I just really, really love the stuff. There's no added sugar which is great for me but I feel like I'm still getting something really flavorful and delicious. FYI pamplemousse is the greatest flavor ever and not only because the name is fun to say.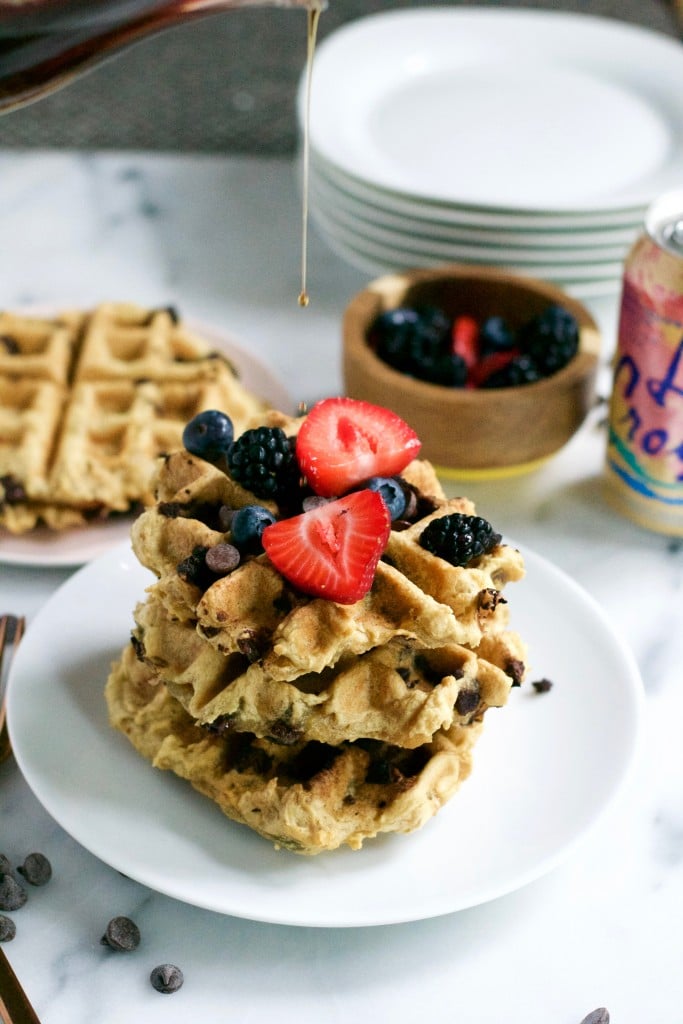 Anyways, these waffles were born out of desperation at my parent's lake house in Wisconsin one day. We basically had nothing to eat for breakfast but some gluten-free flour (of course I don't travel without it. You never know when the baking urge will strike), some cans of La Croix, and a few other pantry staples. Butter? Nope. Milk? Nope. Eggs? Nope. Which all kind of worked out in my favor since I can't eat eggs or dairy. So this easy waffle recipe was born! Whether you're gluten free and vegan or just are all out of butter, milk and eggs, these waffles are definitely for you!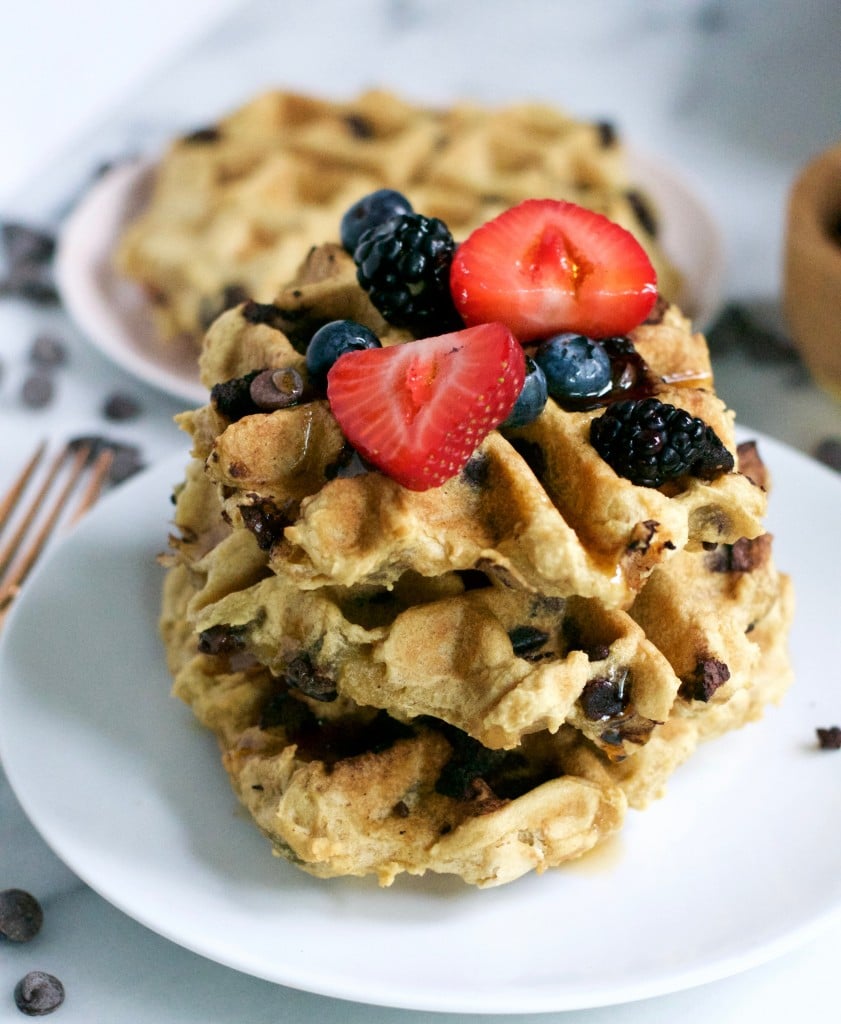 The recipe uses a 12-oz can of La Croix as the liquid in the recipe as well as part leaving agent. Using sparkling water makes these waffles really fluffy as well as crispy which is just perfect. When making vegan waffles and pancakes in the past, I always ended up with really flat pancakes or waffles and the centers were never cooked through. Doughy, flat, unappetizing, gross. But these waffles are the exact opposite! They're delicious! I love how customizable they are and so simple to make. The key with these are that you need to let them cook a few minutes longer in the waffle iron than you normally would so they can brown nicely and get crispy. I like to make extras and freeze them for easy reheating throughout the week. For this version, I added vegan chocolate chips (these Guittard dark chocolate chips are my absolute favorite) and then topped with fresh fruit and a drizzle of maple syrup. I have so many ideas for future recipes like lemon poppyseed using lemon La Croix, pumpkin apple using pure La Croix , and tropical coconut pineapple using Coconut La Croix. You'll only ever so slightly taste the flavor of the sparkling water you use, but it's still fun to match flavors to the recipe you're using!
I would love to see your vegan waffle creations using La Croix or other sparkling water! Tag #adashofmegnut on social media when sharing your photos!
Note: A few people have asked what type of waffle iron I use. I have a really basic one and it does the job. You can get it here. Please note that this is an affiliate link and that I may earn a commission if you purchase using this link. The price of the product will always remain the same to you and I only link to products I actually use, love and recommend. Like seriously, those Guittard dark chocolate chips are life changing. Never going back.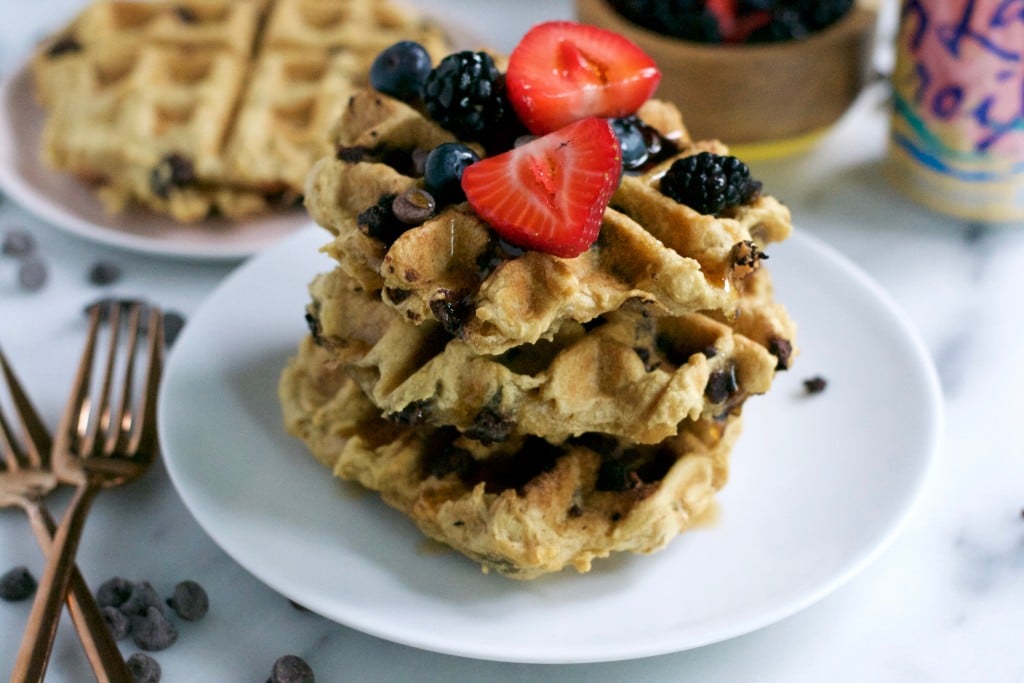 Gluten-Free Vegan Sparkling Water Waffles
Prep time:
Cook time:
Total time:
Ingredients
2¼ cup gluten-free flour blend (you can also use all-purpose flour)
1½ tsp baking soda
½ tsp baking powder
1 tsp cinnamon
½ tsp salt
2 tbsp granulated sugar (can also use maple syrup for more flavor)
1 tsp vanilla extract
¼ cup vegetable oil (can also use melted butter for more flavor)
1 tbsp lemon juice
12 oz can of La Croix (or 1½ cups sparkling water)
½ cup vegan dark chocolate chips (I use Guittard dark chocolate chips)
Instructions
Preheat waffle iron. Spray with cooking spray or brush with oil.
In a large bowl, combine flour, baking powder, baking soda, cinnamon, salt, and granulated sugar by whisking together.
Stir in vegetable oil, lemon juice and sparkling water until combined. Batter will be thick.
Stir in chocolate chips.
Add ½ cup of the batter to the middle of the waffle iron. Close the lid and cook for 5-6 minutes or until the waffle is lightly browned and crispy. Set aside or keep warm in the oven. Brush the waffle iron with more oil in between each use to prevent sticking.