This farmer's market salad with mustard vinaigrette combines all of my favorites from my local market and is topped with a delicious homemade mustard vinaigrette! Gluten-free, dairy-free and vegetarian!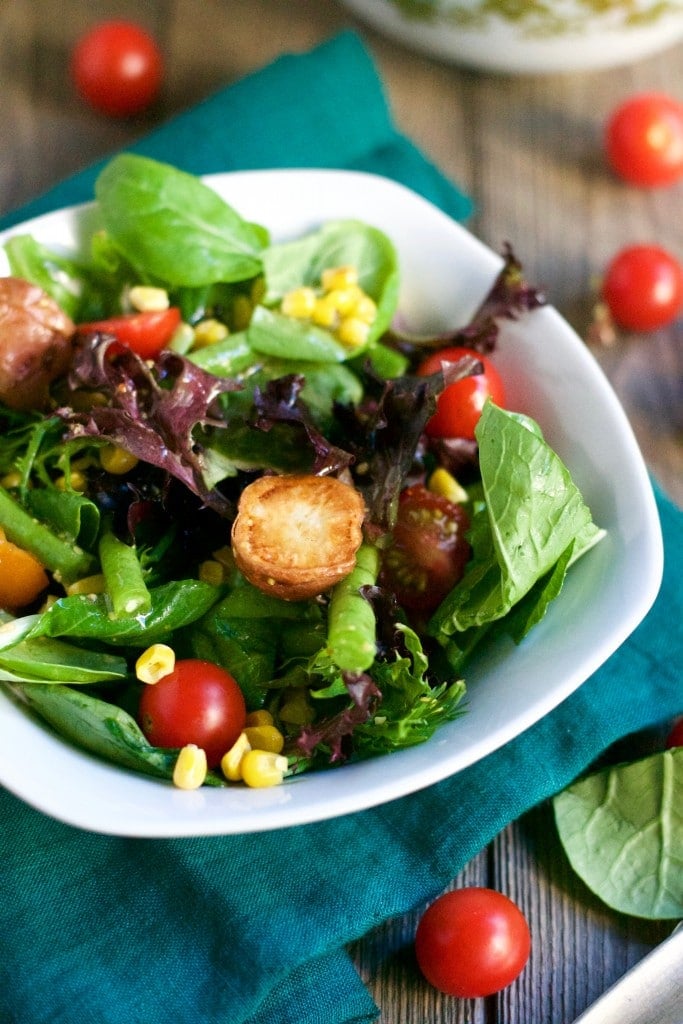 To say I have a slight obsession with the farmer's market is an understatement. I LOVE the farmer's market. When I lived in Wisconsin, we had the absolute best market on Saturday mornings on the square in Madison. I remember getting up early to hit up the best stalls because if you went after 9am you would be unable to move it would be so packed there. Hot spicy cheese bread (obviously pre-celiac diagnosis), massive zucchini and cucumbers, cheese galore. It had everything! Now, I love to hit up my local farmer's market in Chicago to get fresh veggies for the week and beautiful flowers to make my apartment feel like home.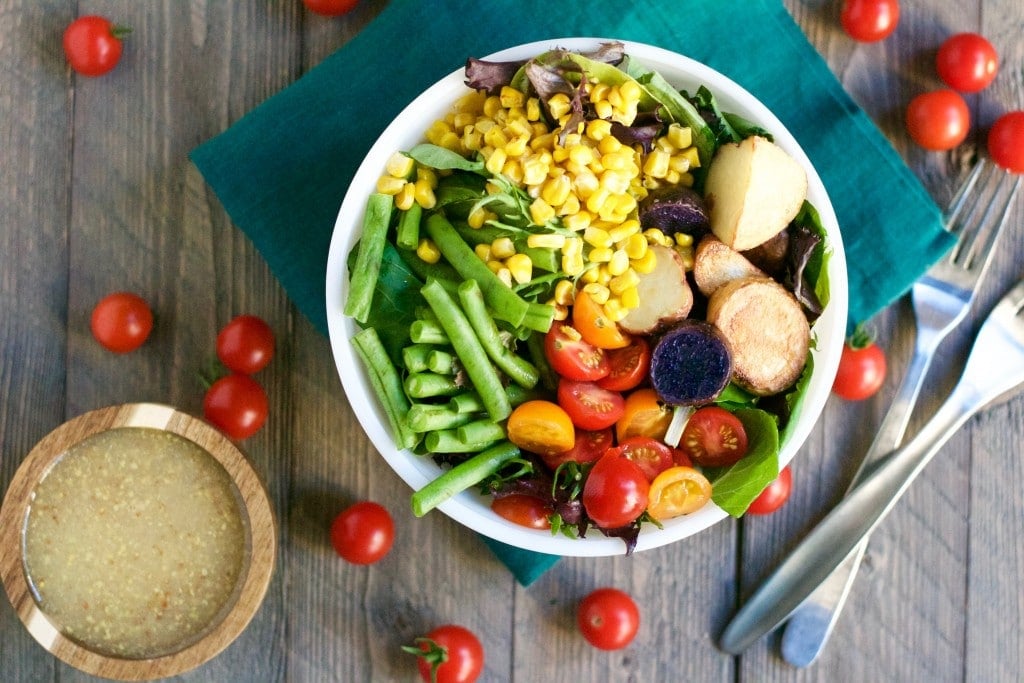 Some of my favorite picks from the farmer's market are potatoes, corn and lettuce or kale. Since I have a garden at my office, tomatoes, cucumbers and fresh herbs are aplenty there. The inspiration for this farmer's market salad with mustard vinaigrette were my favorite vegetables both from the farmer's market and from my garden (and that's where all the ingredients from this salad came from too!) If you've never had roasted potatoes in your salad before – look out. You will be absolutely smitten and your life will forever change. Ok, maybe not change. But you'll be happy you tried it. The potatoes give this salad a hearty feel to it and really balance the light and fresh veggies throughout the salad. They also fill you up which is a plus when you don't want to be hungry two hours after eating your lunch! As written, the salad is dairy-free and almost vegan (there's some honey in the dressing), but it tastes so delicious with some lemon chicken and goat cheese on top too! My new favorite dressing is a mustard vinaigrette that I've literally been eating every week. Seriously, it's addictive and will make even the wariest of eaters a complete salad lover. I love to use whole grain mustard but you could also use a dijon mustard for the dressing and it would be equally as delicious! Tell me in the comments, what's your favorite item to buy from your local farmer's market?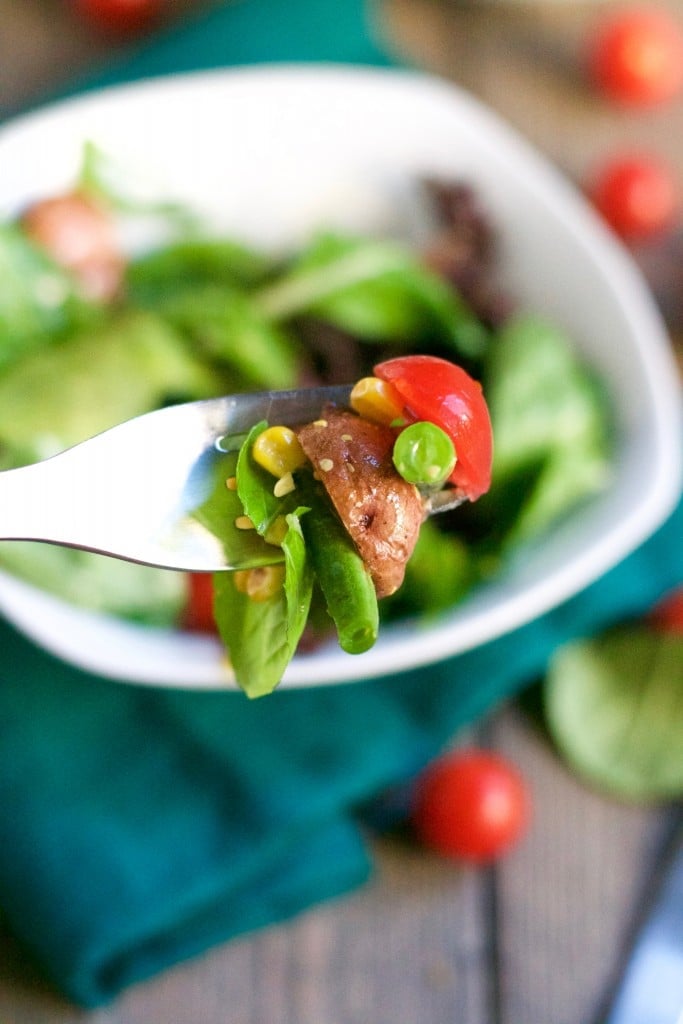 Farmer's Market Salad with Mustard Vinaigrette
Prep time:
Cook time:
Total time:
Ingredients
For the Salad:
½ lb fingerling potatoes, cut in half or sliced in rounds
2 tbsp oil, divided (olive oil or avocado oil work great)
2 cups green beans
2 cups corn, cooked (leftover corn is great for this or even frozen corn)
pinch of salt and pepper
8 cups mixed greens
2 cups cherry tomatoes, sliced in half
salt, to taste
For the Vinaigrette:
2 tbsp stone ground mustard (make sure it is gluten-free)
2 tbsp apple cider vinegar
⅓ cup avocado oil or olive oil
2 tsp honey
½ shallot, finely minced
1 clove garlic, finely minced
salt and pepper, to taste
Instructions
Preheat oven to 425F. In two separate bowls, mix potatoes and green beans with oil until the potatoes and green beans are covered. Place potatoes on a baking sheet lined with foil. Sprinkle with salt to taste. Roast for 15 minutes and then add the green beans to the pan. Roast an additional 5-10 minutes, until potatoes are tender and lightly browned and the green beans are tender yet still have a little bite to them. Set aside.
To make the vinaigrette, whisk together mustard, vinegar, oil, honey, shallot and garlic. Taste and adjust as needed. Add salt and pepper to taste.
To assemble, layer mixed greens with roasted potatoes, green beans, corn, cherry tomatoes and drizzle with mustard vinaigrette. Toss and serve.