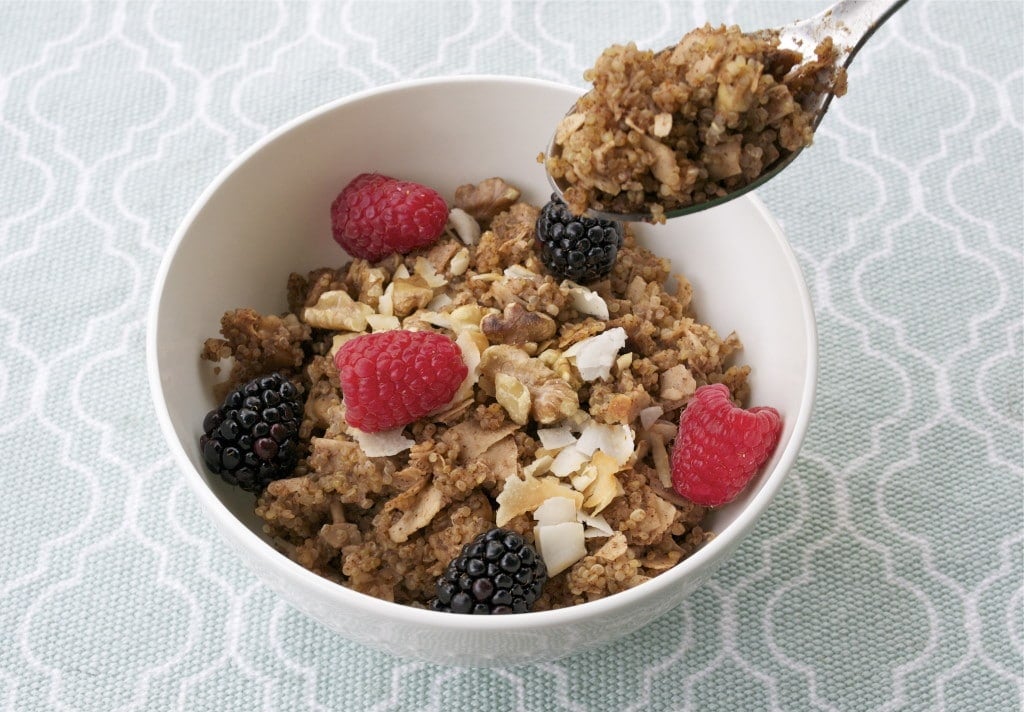 Since starting my elimination diet, I've struggled to think of easy breakfast ideas for the week. The whole not being able to eat eggs thing has really put a damper on most of my go-to breakfast recipes. While brainstorming I remembered how I used to make baked oatmeal and reheat it for quick breakfasts during the work week. And then I thought why not try to do that with quinoa? Let me tell you, it took a few trials, but I think we've got a winner here!
This baked quinoa recipe is super easy to throw together for a weekend brunch or to make for breakfasts throughout the week. I love how customizable it is and can't wait to start experimenting with different versions! This version works quite well as a basic recipe. I love to top mine with some fresh berries, toasted coconut and toasted walnuts. Though I think a drizzle of honey or brown sugar would be divine on top, as well!
Baked Quinoa Breakfast Bowl
2015-03-18 07:42:34
Serves 4
An easy and healthy breakfast quinoa that is gluten-free, dairy-free, sugar-free and vegan!
Ingredients
1 cup quinoa, uncooked
2 cups almond milk
1 cup unsweetened coconut flakes
1 tbsp ground flax meal
2 tsp cinnamon
1/2 tsp nutmeg
1/4 tsp ginger
1/4 tsp salt
1 tsp vanilla
1 1/2 tsp baking powder
40 drops liquid stevia or honey to taste (I'm guessing about 2-3 tbsp)
1/2 cup chopped walnuts
toppings (optional): toasted coconut, berries, toasted walnut, honey
Instructions
Preheat oven to 350F. Grease a casserole dish (6 cup at least) or baking pan 8x8 inch would work with coconut oil or other oil.
In a large mixing bowl, mix together all of the ingredients.
Dump quinoa mixture into the greased baking dish.
Bake at 350F for 40-50 minutes. Mix the quinoa every 15 minutes or so.
Serve warm and top with toasted coconut, toasted walnuts and fresh berries (and a drizzle of honey if you can have it!)
Notes
I've only tried this recipe with stevia, but if you are able to eat honey or maple syrup it would work really well in this recipe. I would suggest starting at 2-3 tbsp but taste as you go. You can always add some more on top after baking to sweeten it a bit.
A Dash of Megnut http://www.adashofmegnut.com/
This recipe was shared on Allergy Free Wednesdays and Gluten-Free Wednesdays