Studded with bacon, butternut squash, spinach and avocado these bacon butternut squash tacos are the perfect way to start your day. Gluten-free, dairy-free, and egg-free, these tacos work great for any meal of the day – breakfast, lunch or dinner!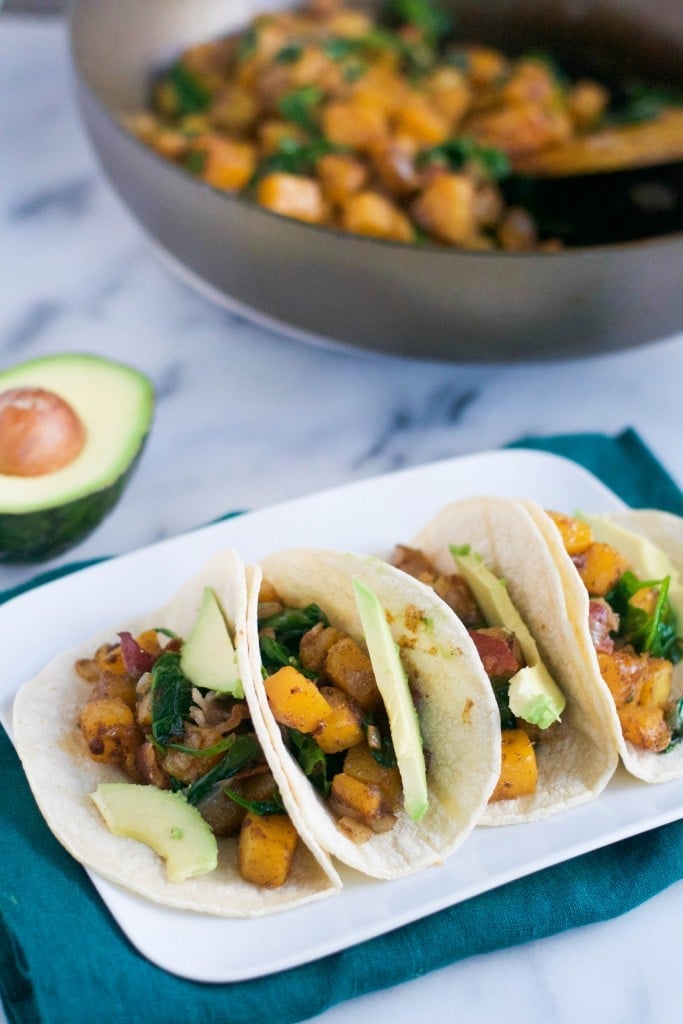 You know how much I love tacos. They're easily my favorite meal. So it should come as no surprise that my first meal of 2017 was obviously tacos. And it's also the first recipe I'll be sharing with you in 2017. And even better? Today is my 7 year anniversary of A Dash of Megnut! So tacos for EVERYONE!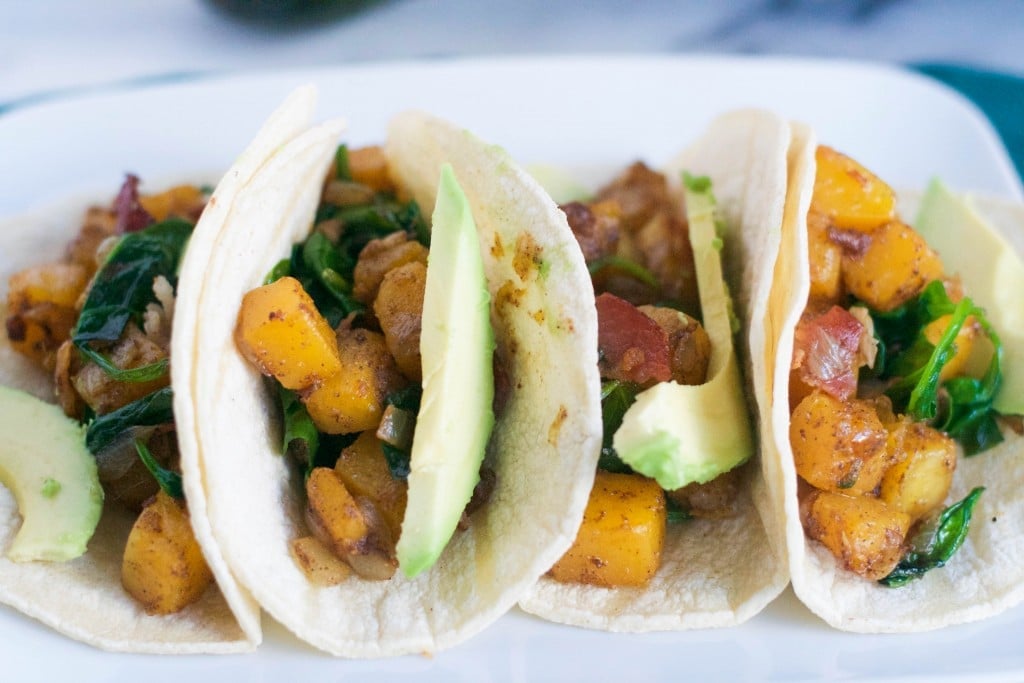 I started A Dash of Megnut back in 2010 when I was in college in Madison, Wisconsin. I loved baking, was iffy at cooking, but lived with a bunch of roommates and loved to feed them. In fact, when my roommate Brittany moved in (I didn't know her at the time), the first thing I did was offer her a box of donuts. When we went to go meet the new neighbors, we brought over some Oreo cupcakes – which I ended up tripping on dropping all over the floor as soon as we got there.. but that's a different story. Food has always been my way of sharing with others. 
Over the past seven years, this blog has developed SOOO much. First, it was just trying new recipes that I would find on the web – mostly baked goods. Camera phones weren't really a thing yet or maybe they were but my phone just didn't have one. Everything was taken with a point and shoot camera. My photos were awful but I didn't really care at that point. I just wanted to share some recipes with the handful of friends and family who read my blog.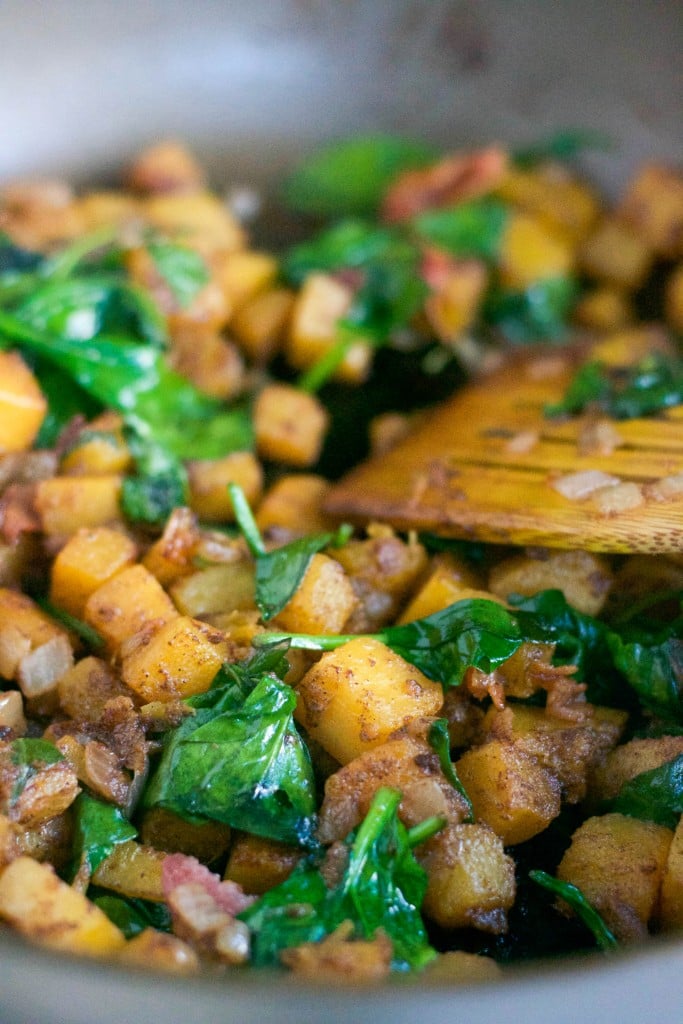 It wasn't until 2013 where I really feel like A Dash of Megnut really found its little home on the internet. I was diagnosed with Celiac disease at the age of 25 after years of misdiagnoses. A sense of relief and sadness filled me all at once. I finally figured out what was wrong with my stomach and could possibly feel better again. At the same time… goodbye gluten and all of its deliciousness (or so I thought). From that point going forward, A Dash of Megnut became my space to create. Anything I wanted to eat that I could no longer have, I would make a gluten-free version. Once my little blog found its purpose – to create gluten-free recipes that are delicious and easy to make – I found my purpose, too. 
Since then, I have discovered other food intolerances that I have, which overall has really given me the ability to understand food better and become more creative in the kitchen. I no longer turn to recipes to guide me through the process – now I just go with my gut (heh, literally) and create recipes that I feel will taste good. So you might be able to say my celiac disease diagnosis was a blessing in disguise. I'm so happy that through this blog of mine, I am able to meet so many different people throughout the world and also share recipes with all of you. It makes my day when I hear someone has tried a recipe I created!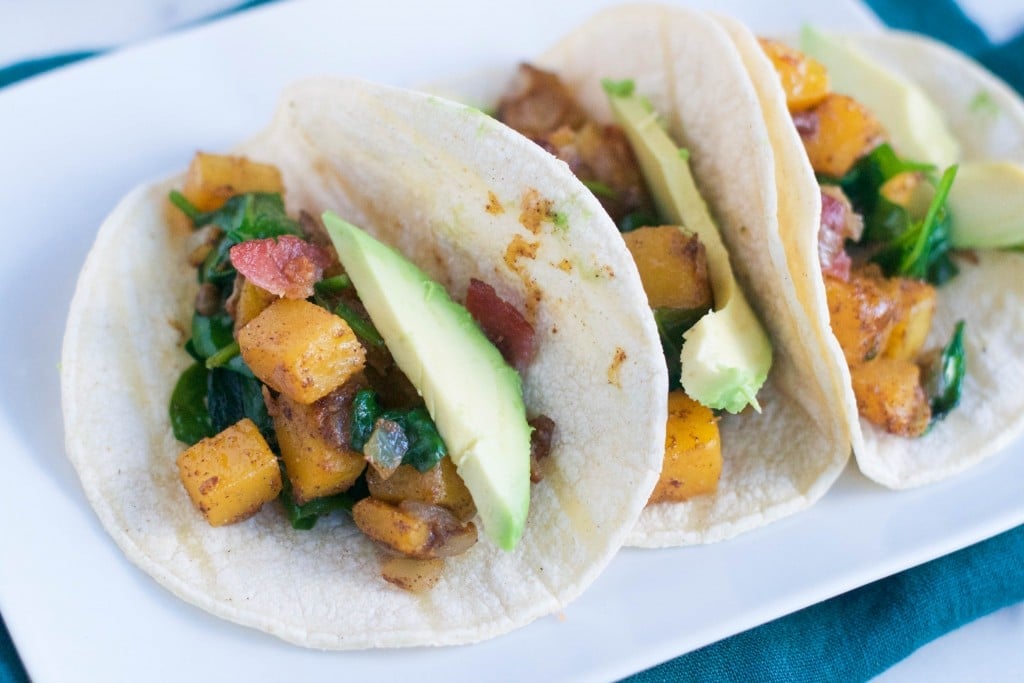 Now that my little trip down memory lane has concluded.. I give you these bacon butternut squash tacos! These tacos are gluten-free and dairy-free and can be made vegetarian and vegan without the bacon. As someone who can't eat eggs, I love eating these for breakfast. They definitely fill me up and I love getting some veggies first thing in the morning. They also work great for lunch or dinner, too! You'll love how simple these tacos are to throw together, I guarantee they'll become a staple in your house. 

Bacon Butternut Squash Tacos
Prep time:
Cook time:
Total time:
Ingredients
4 pieces bacon
1 cup onion, diced (1/2 medium onion)
2 cups butternut squash, diced
1 tsp cumin
1 tsp salt
½ tsp cinnamon
½ tsp garlic powder
1 cup spinach
12 corn tortillas
1 avocado, sliced
Instructions
Preheat a large skillet over medium high heat. Add bacon slices. Cook until bacon is cooked through and crisp. Remove bacon from the pan and crumble or break into small pieces. Set aside.
In the remaining bacon grease, add the onion and butternut squash. Cook for 5-6 minutes, until onion is translucent. Add spices and stir until combined. Cook another 5-6 minutes, until the butternut squash is able to be pierced with a fork. Add spinach and stir until the spinach is wilted. Stir in crumbled bacon. Remove from heat.
Warm tortillas either in the oven for 3-4 minutes or in the microwave for 45 seconds. Fill tortillas with squash mixture and top with sliced avocado. Serve